My automotive tastes have been all over the united states of beige, but it ain't intentional, I promise. Barring a couple of exceptions, every vehicle I've purchased has fallen into my lap by chance. Did I search for a broken Fiat 500 Abarth or Ford Fiesta? No, but I coincidentally found them and purchased them because they were cheap, and I hadn't owned them before. Variety is the spice of life, some old philosopher said one day, somewhere. Most recently, happenstance threw a broken Honda CR-Z in my lap. Y'all know I had to cop.
It's salt season here in Ohio, which means the roads will be coated in a nasty ashy white film until at least mid-April. I love my Fiat 500 Abarth, and subjecting my Italian super city car to salty roads would certainly send it to an early corrosion-related grave. Thus, the Abarth is now tucked away in storage, and the other car I own, the short-range Mitsubishi i-MiEV, is relegated to very limited city driving. Thus, I needed another runabout, so back to Facebook Marketplace I went.
Still, maybe some of the murmurs of, "Wow you buy boring cars," kind of got to me. "It's time to live a little," I thought to myself, unwilling to purchase, repair, and write about yet another mid-aughts compact sedan.
I set FB marketplace's price to $12,345 and searched the keywords engine, transmission, or mechanic's special, ready to find some broken down mildly interesting broken-down runabout I can bop around town in. I found a couple of gems, such as a Chevy Volt with a bad traction battery (too expensive to repair), but not much else that wasn't another basic economy car.
That fortune shifted, however, when I scrolled down and saw a mislisted gem that was located a little more than 100 miles away. It was cute, it was a little bit weird, and a little bit sporty. It was a 2011 Honda CR-Z in need of a gas-powered engine, and it only had a mere 140,000 miles on it. Was it a basic economy car? Technically, yes, but it's a sporty basic economy car.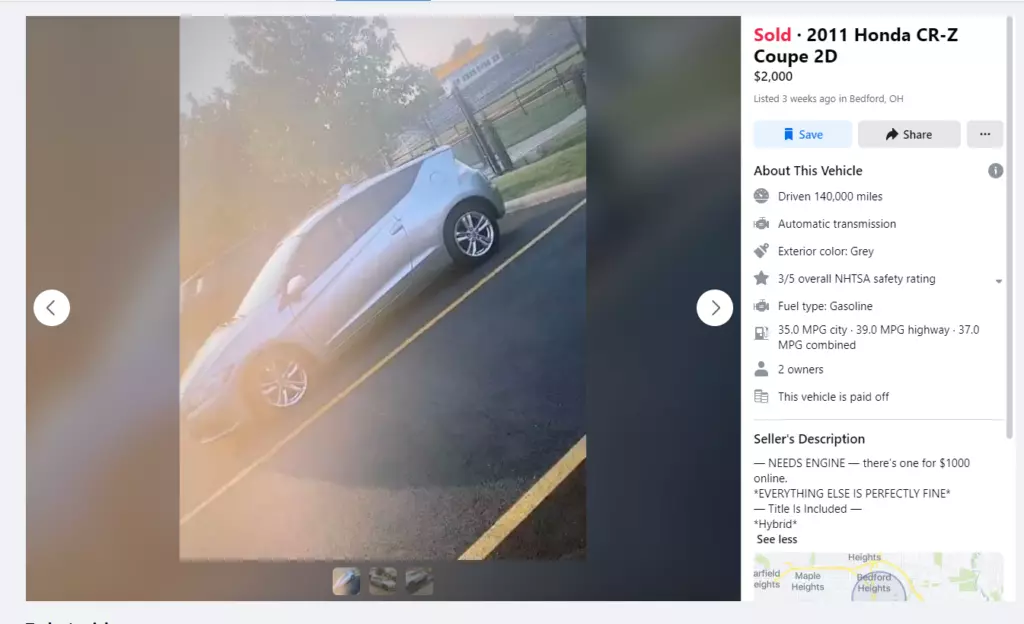 For $2,000 I could buy a broken example of the most disappointing attempt at both a hybrid car and an homage back to Honda's legendary CRX. After days of false starts and ghosting, the owner told me that the car needed a gas engine and that it had been sitting in non-running condition at his grandma's since Thanksgiving. He had replaced "the battery," but that didn't fix its no-start issue. He later towed the vehicle to an unspecified Cleveland-area hybrid shop, and those mechanics confirmed that the "battery in the back" was fine, and in fact, the engine was ruined.
Hrm. I called horseshit. From my cursory knowledge about mid-aughts Honda hybrids, the most common points of failure are the hybrid battery, followed by the CVT automatic transmission. The gas engine tends to be the most reliable part of the car, as lots of high-mile Honda hybrid owners drive hundreds of thousands of miles on gas power alone. It's a common hack for honda hybrid owners (especially first-generation Honda Insight owners) who find themselves in possession of a hybrid car that needs a very expensive battery repair. I've also heard from my mechanic that some early second-generation Insights with the 1.3-liter gas engine can sometimes wear out piston rings and furiously burn oil, but that isn't so common with the CR-Z's 1.5-liter engine. Yet, if it did need a gas engine, I could have my pick of the litter of low-mile, good-condition replacements for $350-500. I wasn't convinced the CR-Z needed an engine, but if it did, it wouldn't be too big of a deal to replace it. My mind was made up, the curiosity novelty switch in my brain had been flipped, and I wanted that CR-Z, no matter what.

As mentioned, the CR-Z was near Cleveland about 120 miles away. If you're close to any Great Lakes-area city, you're likely familiar with lake effect snow, in which the Great Lakes' natural moisture amplifies any weather patterns and makes precipitation much more intense than parts of the state further away from the lake. So after snow showerings in Columbus amounted to a measly two inches of accumulation, Cleveland got about a foot. The previous owner told me that the car was nearly buried in more than a foot of snow and needed to be dug out of a huge mound of snow. Me, being the overly accommodating person that I am, said, "haha, I don't care about snow, I'll just bring a shovel," overconfident, remembering the days when I lived at home in nearby Akron, shoveling so my mom could park her Buick Rendezvous in the driveway.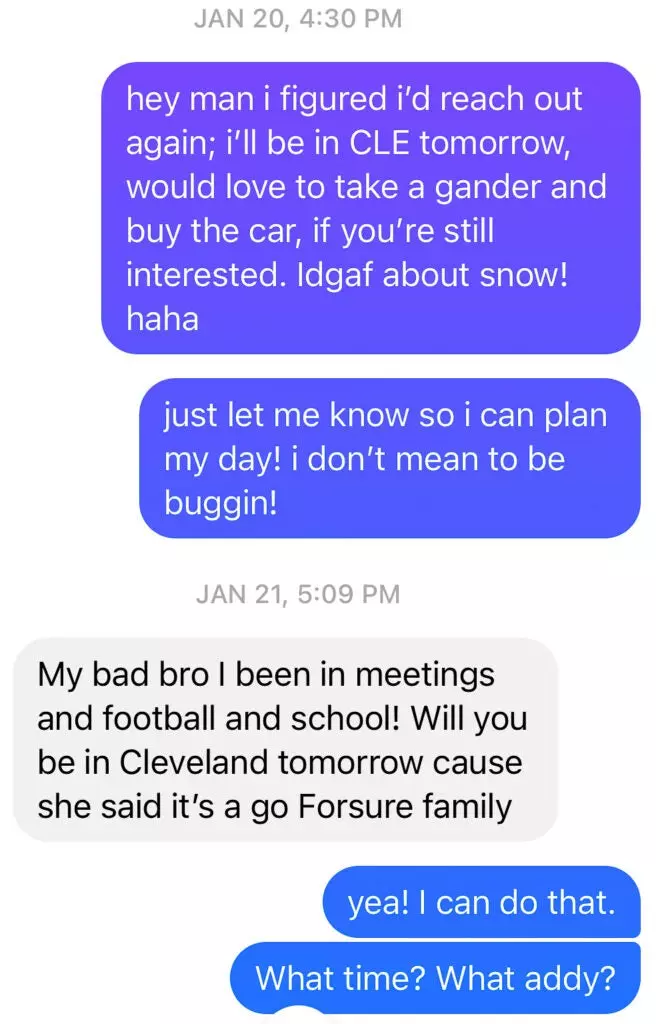 I drove to Cleveland with my roommate's Maxima with cash, intending to see if the CR-Z was worth my time. The car was buried up to the sill panels with snow, but from what I could see, the body was generally in decent condition, sans a maybe too-large front hood gap, horrible plasti dipped wheels, a skosh of northern Ohio rust, and some slightly worn rear tires. Was the car crap? Maybe, but the car purchase hormones had taken over my body, so I didn't care all that much.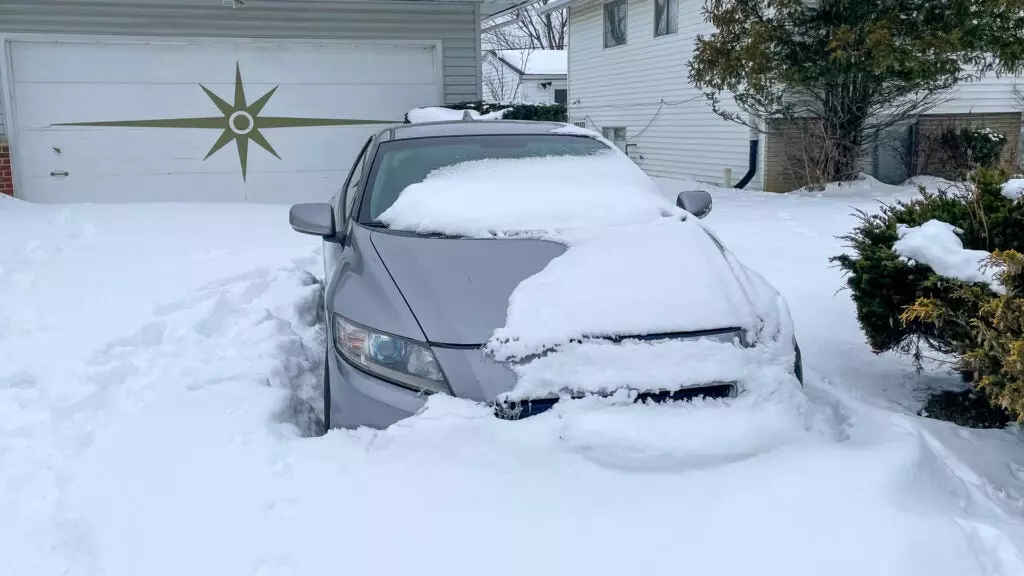 "Oh, both door handles are broken, so I don't know how you're going to get inside the car," said the seller's mom, who was also the vehicle's titleholder and legal owner. Really, she's the seller. She didn't have a key on her, but she insisted that her son told her that he placed one key in his grandmother's house and that it would be ready by the time I came to pick the vehicle up. So, I was unable to open, start the car, or pop the hood.

Most sane people would say, "This is a bad idea, I should pass," but clearly, I'm not sane.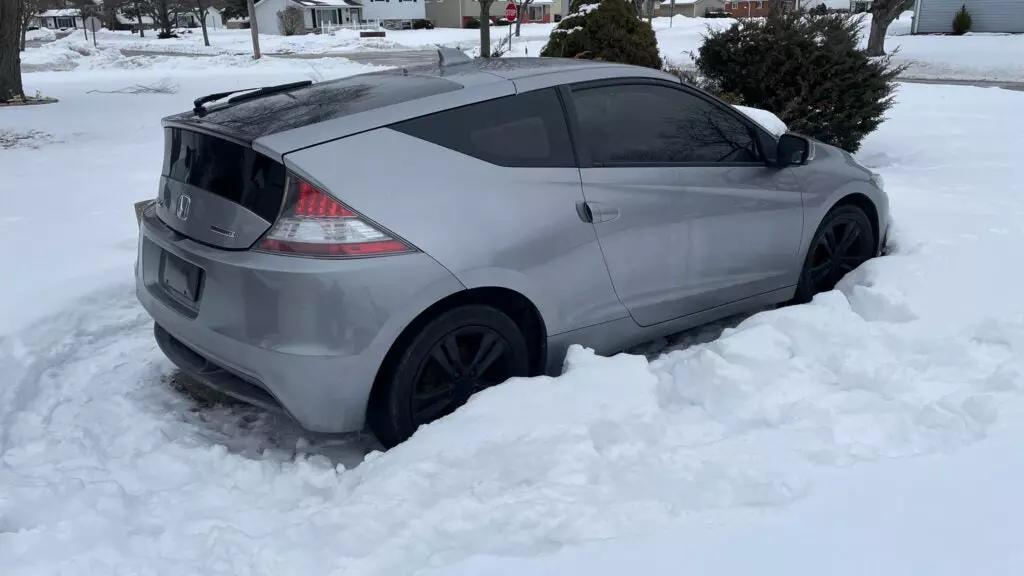 I paid for the CR-Z then and there, essentially sight unseen. I mean, sure I saw the vehicle, but I couldn't look closer at any important running bits. With a brain full of dopamine, I handed the woman $2,000, she signed over the title, and within three days I was the proud owner of a Honda CR-Z of unknown quality. "We'll make sure we snow blow and shovel off that driveway so you can get it out," said the seller's mom.

They didn't do that. I pulled up to the house in a 2022 Toyota 4Runner TRD Pro press car, dolly in tow, to a CR-Z buried in even more snow than three days prior. Frustrated, but undeterred,  I put my gloves on and spent three hours shoveling out a path for the CR-Z. After about two hours, I took a break to procure my way into the CR-Z. Both front door handles were broken, and the car didn't have a 12-volt battery installed, so I got my shim and inflatable bag and got to work kajiggering my way into a late model Honda. As I worked, the seller's mom explained what happened to the CR-Z.

"Oh, it was such a reliable good car for him," she said. The kid had bought the car right at the onset of the pandemic, and it mostly stayed on his college campus, only returning home to Cleveland every couple of weeks or so. Around Thanksgiving of 2021, the kid drove it from Cleveland to Atlanta. In Atlanta, the CR-Z mysteriously wouldn't start. They called AAA to jump the car, and the previous owner drove home to Cleveland. After sitting for a day, the car refused to start, even after a jump-start and replacing the 12-volt battery. These things didn't sound like a "bad engine," but who knows, stranger things have happened. I pondered the potential problems while I shoveled the snow.

My hands were numb. It was 14 degrees outside. I didn't wear double socks. The sun was already setting, but after 20 minutes of bending, cussing, and routing around, I got the stick of my shim looped around the door handle. Then I twisted the top, pulling the handle, and opening the door. "F*CK YES," I screamed. I texted the owner's mom, letting her know I got the CR-Z open and to go ahead and bring me the key so I could start rolling the CR-Z to the car.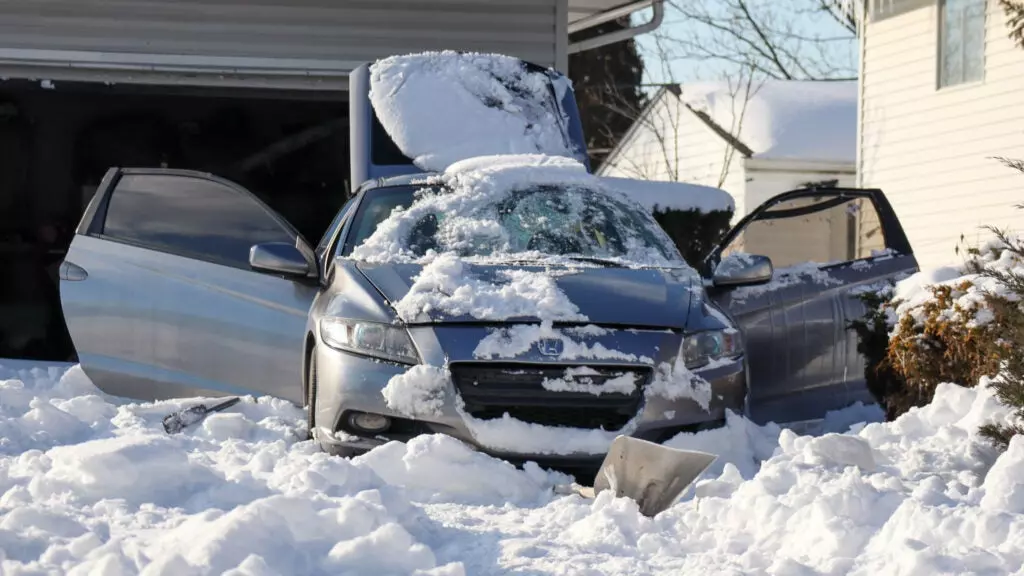 While I waited for the keys, I took stock of the CR-Z's interior. It was nasty, with cigarette ashes, grime, and liquor bottles littering the interior. The dark-tinted windows hid the super-stained headliner and Tupperware containers with remnants of Thanksgiving. "I got my work cut out for me," I thought.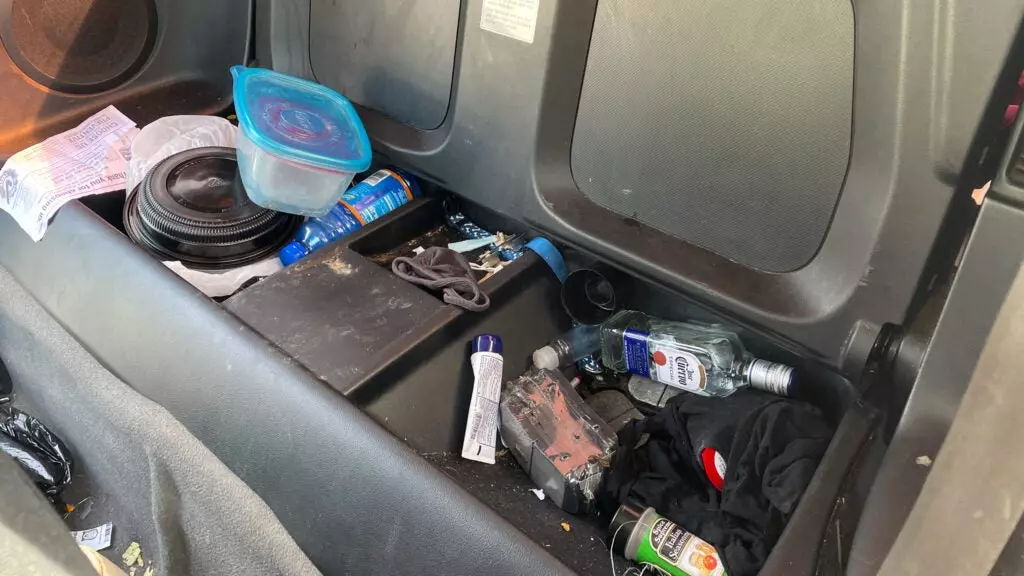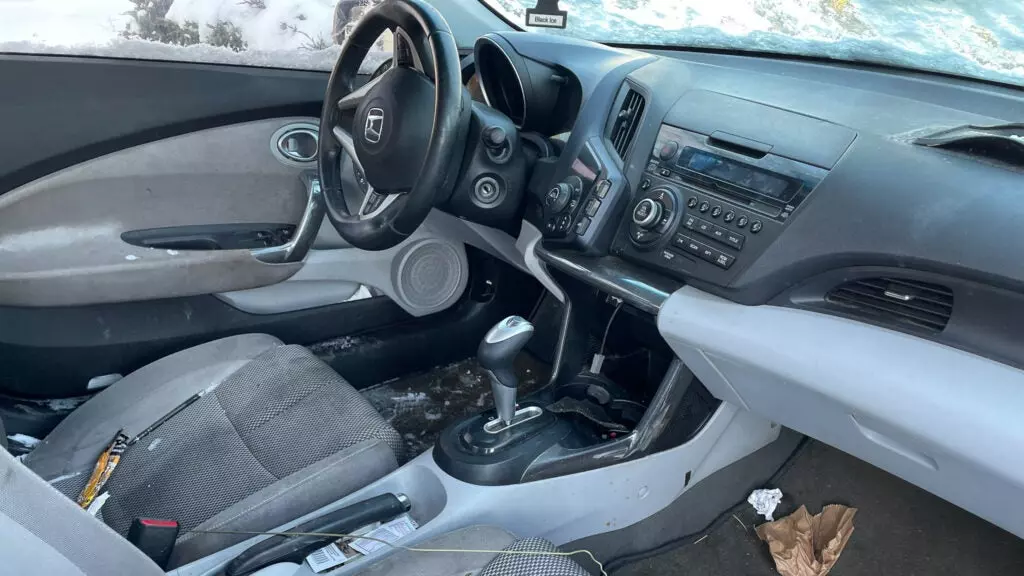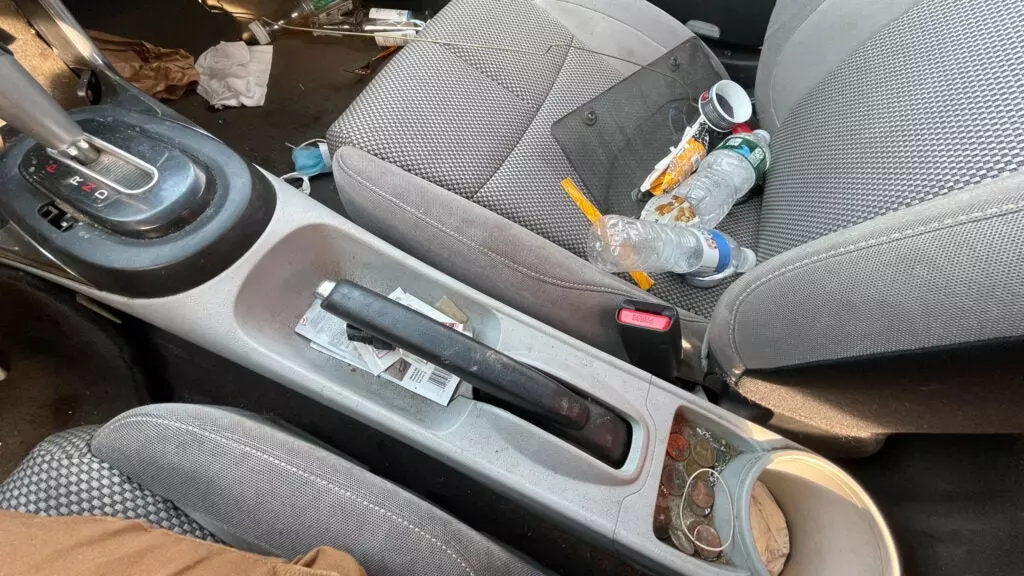 A few minutes later, the seller's mom coyly slinked out of the house. "Oh, um, my son, he lost both sets of keys," she said embarrassed. She went on to explain that her son told her that he had haphazardly thrown a key somewhere in his grandma's house before flicking off downstate (ironically, to Columbus) for college. The keys are as good as gone.
Without the key, I couldn't tow out the CR-Z. Sure, a screwdriver could easily override the shift interlock, but without a key, I couldn't undo the steering lock and guide the vehicle onto the tow dolly.
Luckily, the seller's mother, titleholder, car keeper, along with the seller's grandmother, found their child's loss of the key incredibly irresponsible and insisted that their son pay for at least one replacement key. Forced with no other option, I called a local towing company and paid out of pocket for them to tow the CR-Z to a Honda dealer who could cut and program a key to the CR-Z. Unfortunately, I'd have to leave the CR-Z in Cleveland, make the two-hour drive a couple of days later after the key was delivered, cut, and programmed, and then tow it out again. Sigh. The tow and dolly would be out of pocket, but at least the key wouldn't be.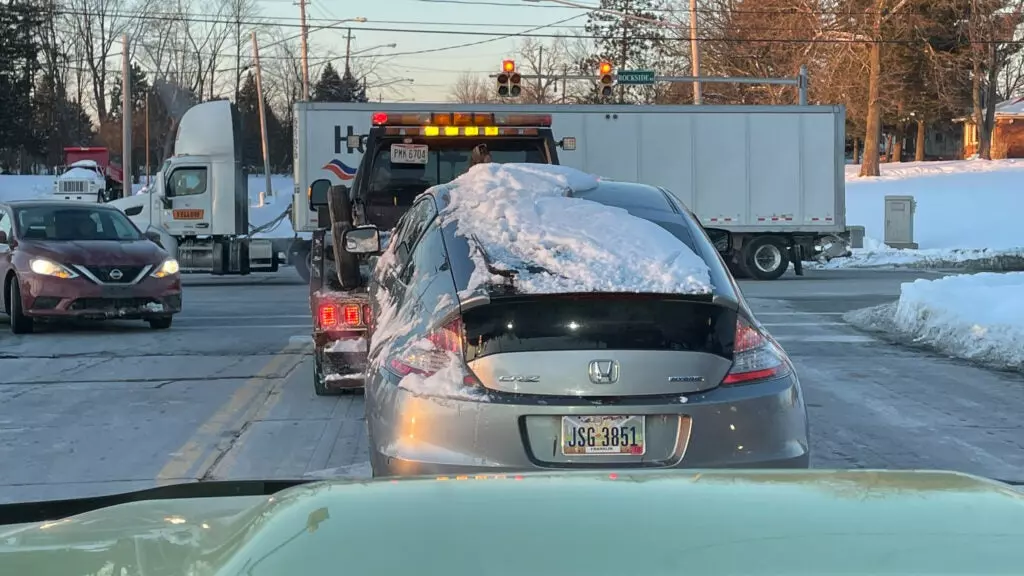 The CR-Z's key wouldn't program, revealing a very different problem, but it didn't matter. I had a new key that at least unlocked the steering wheel, allowing the car to be pushed onto the dolly, and towed back to my mechanic. As of now, the car sits at my mechanic, awaiting a proper diagnosis, repair, and service.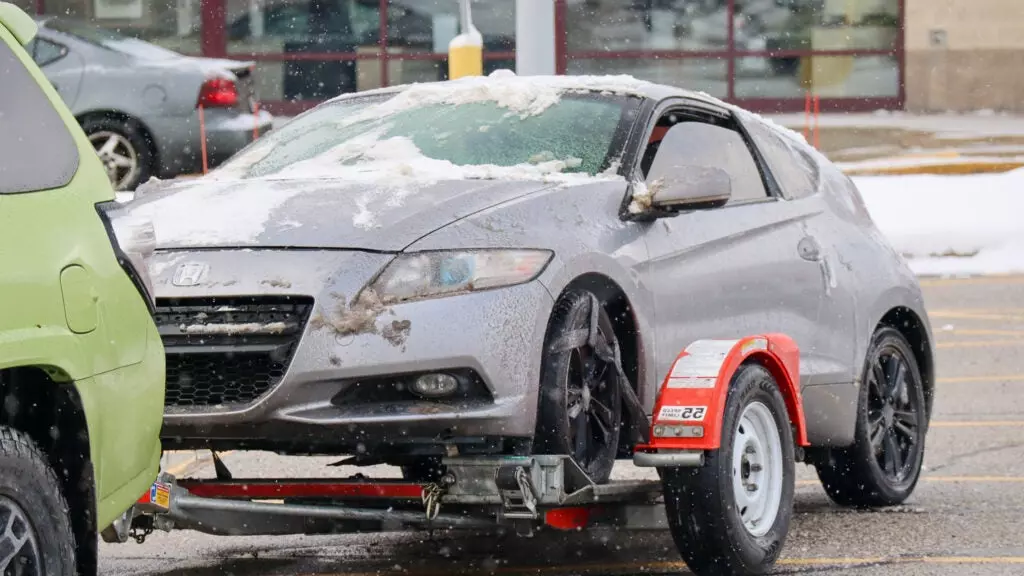 Stay tuned, folks. I can tell this is going to be a wild ride.
What to read next: