I have no real desire to fight with the purists still insisting the Mach-E can never be a Mustang. I mean, they're wrong, but mostly I (and most consumers) don't care. But please, stay with me. If you ignore all the drama and platitudes flying behind the 2021 Ford Mach-E's name, you're left with arguably the most compelling electric car on sale today.
To evaluate electric vehicle ownership in the Midwest, Ford loaned me a 2021 Mustang Mach-E for a week.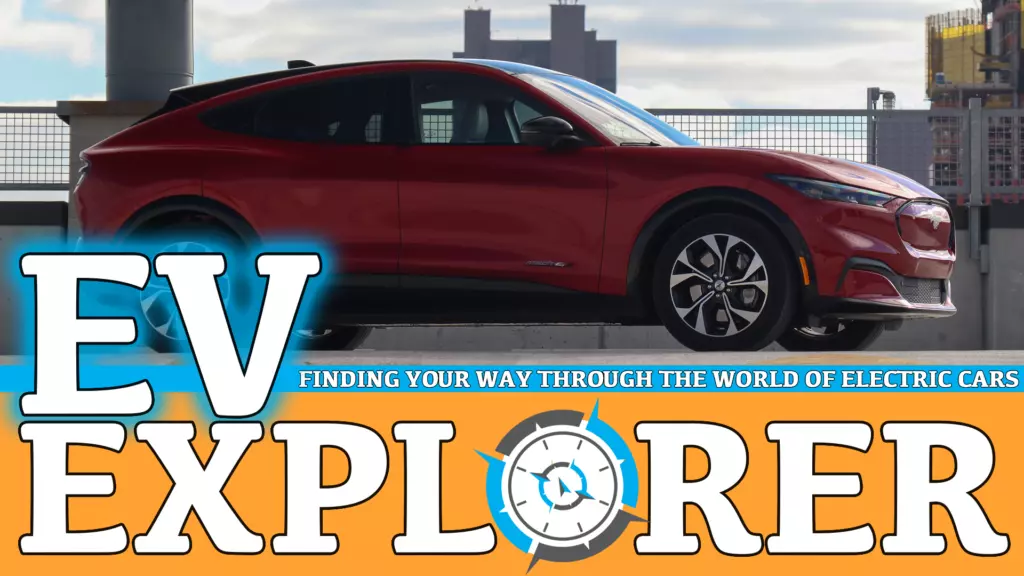 2021 Ford Mustang Mach-E Premium AWD
Base Price (as tested): $43,895 ($56,200 including destination)
Powertrain: 346HP/428 LB-FT, dual electric motors — all-wheel drive
Battery Size: 88 kWh
EPA Estimated Range (observed range): 260 miles, (about 180 miles)
Vehicle Type: compact crossover
Curb Weight: about 4,700-4,800 pounds
If You Can't Beat Them, Join Them
So far, Tesla's kind of stood alone in the "electric car that people aspire to buy" space. Sure, GM's been churning out Bolt EVs since 2017, but those cars are little economy dodgeball-looking things; not exactly a car oozing sexiness. The Tesla lineup is a cultural flex, the brand is name-checked in songs, and the car itself is seen as a status symbol among people now, in part, because honestly, they kind of look good.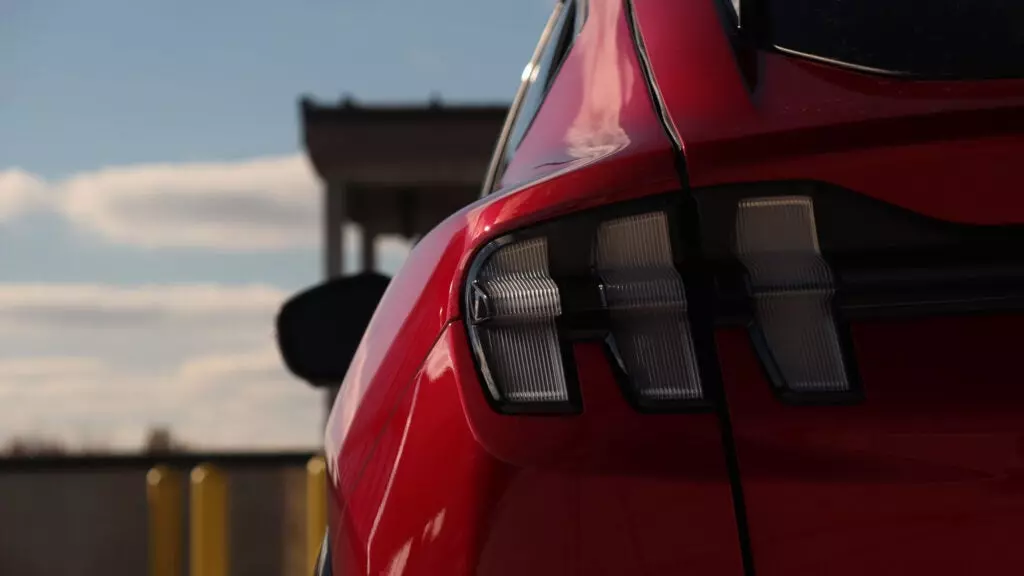 Ford, not content to let Tesla cash in without real competitors, trotted out a new electric car with an old name: The Ford Mustang Mach-E. Tesla may have shiny newness, but "Mustang" has half a century of brand equity going for it. Underneath, the car is a very heavily reworked version of Ford's C2 platform used on basically every non-Mustang, non-truck vehicle it makes. Like most electric cars, the batteries are mounted on the floor and span the car's wheelbase, and similar to the gas-powered Mustang, the Mach-E is primarily rear-wheel drive, driven via a rear motor.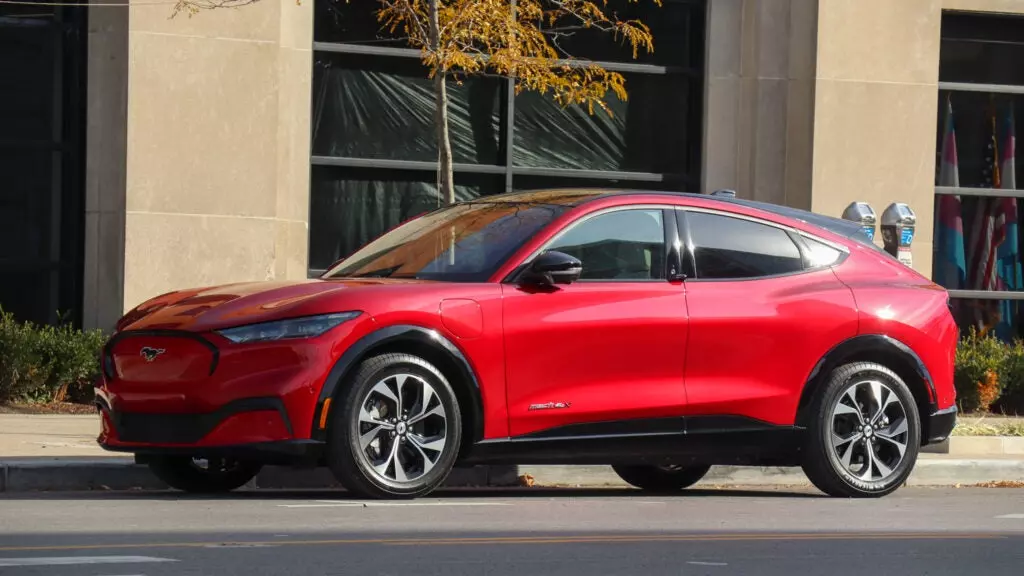 Feel what you feel about the name, but on paper, the Mach-E's specs look to be on par with offerings from Tesla, sans the typical Teslarati drama that comes with ownership of a Tesla. My tester was a 2021 Mach-E Preimum, AWD. This example stickered at around $56,000 but included 346 horsepower's worth of grunt, a big ass tablet that in theory should be less complex to use than a Model 3, heated seats, heated steering wheel, and most of the Ford standard goodies you'd find on a higher-trimmed gas-powered crossover in their lineup.
I'm Not Sure if This Mustang Is a Crossover, but It Sure Attracted a Lot of Attention
The Mustang Mach-E is sort of a crossover, but it's a damn well-styled one. The proportions are perfect, the Mustang's long hood and the dash-to-axle ratio are decidedly rear-wheel-drive, classic-performance looking. Some have derided Ford's use of black paint or cladding as a Trompe-l'œil, the Mach-E's roof rails, rocker sill panels, and wheel arches are cleverly painted black, disguising the vehicle's height. Whatever literally every automaker does this in some way or another, and the Mustang's black cladding works. The car looks deceptively svelte, low-slung, yet wide with big hips. The wheels are off-puttingly skinny, though.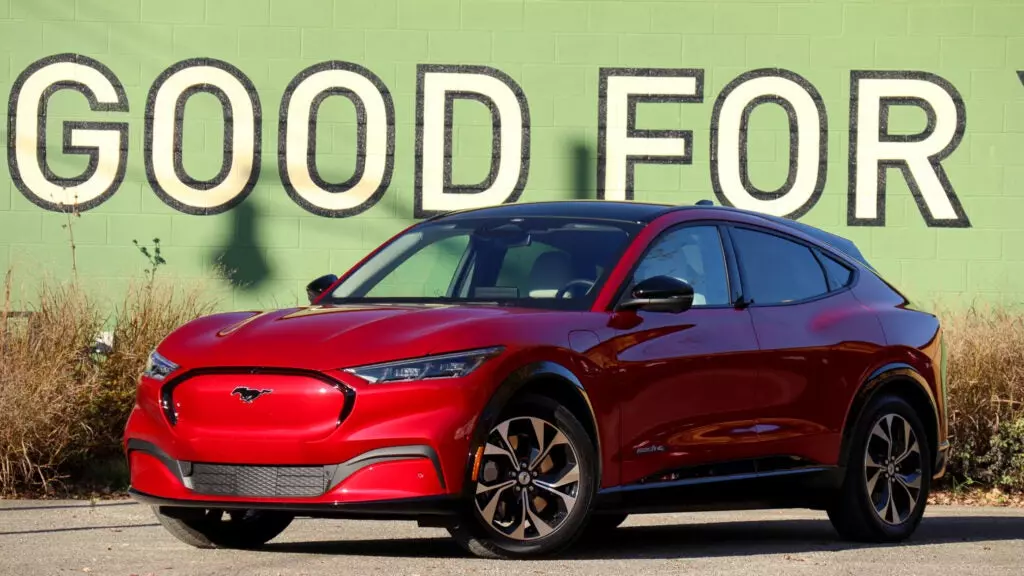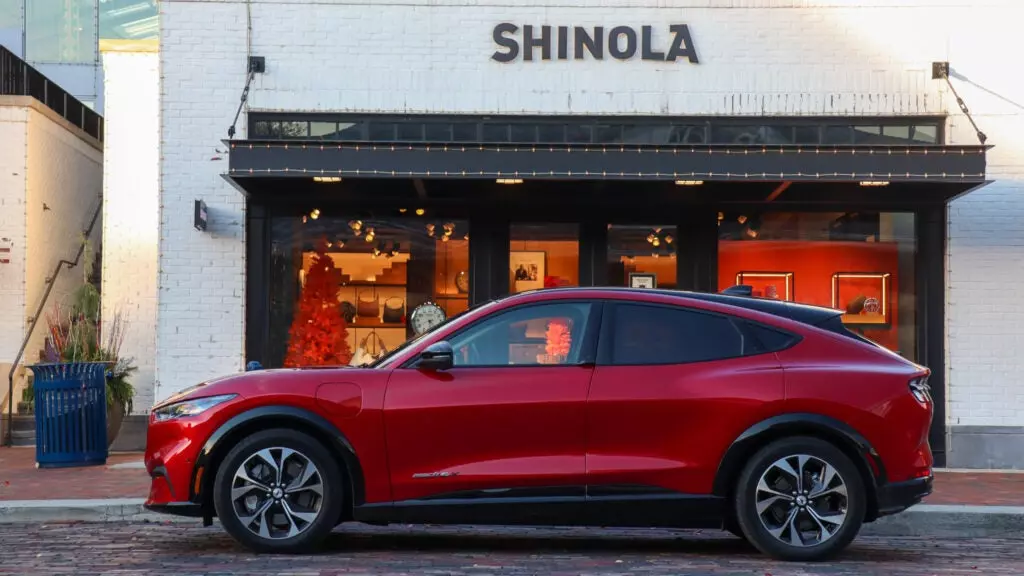 It's hard to tell if the Mustang Mach-E is a crossover, though. Like many other crossovers, approach and departure angles are piss poor, ground clearance is whack, and interior ergonomics tend to skew more "car" rather than "SUV." In fact, the EPA classifies the Mach-E as a "Small Station Wagon."

Contested definition of crossover and "Mustang" aside, onlookers loved the Mach-E. No matter where I went, strangers stopped me on the street, with questions like "who made that?" or statements "wow, that looks so good!" A man raced out of his apartment as I left my coffee shop, to ask me questions about the Mach-E. He had never seen one in person before, and said it "was even better than the pictures." Two guys asked me if they could sit inside it, as I took photos of the car. People loved the Mustang, a complete contradiction from the commenters online who insist it's not a real Mustang, is ugly, and that "no one asked for this car."
The Interior Photographs Better Than It Feels
Back when I was still an art major at Ohio State, I got really good at mocking up final projects that looked great in critiques but would fall apart as soon as you touched on them too hard. OK, Ford's not letting hot glued junk that falls apart as soon as you lean on it out of its factory, but maybe some of the Mustang's interior has that same energy.
I applaud Ford's insistence on blending the old with the new. True, the centrally-mounted tablet and screen-heavy dash are kind of the worst parts of the future. But the incorporation of normal, generic Ford parts bin controls for the gear selector, window switches, lights, turn signals, and windshield wipers, make the cockpit friendly to use. That's unlike other manufacturers where you damn near need a Skillshare course to learn how to turn the headlights on. Unfortunately, Ford switchgear isn't always the tightest, the turn signal and wiper stalks had gross plastic flash lines that didn't feel so nice to use. The generic Ford rotary shifter felt downright cheap compared to other control touchpoints in the interior, as would easily rattle around in its housing.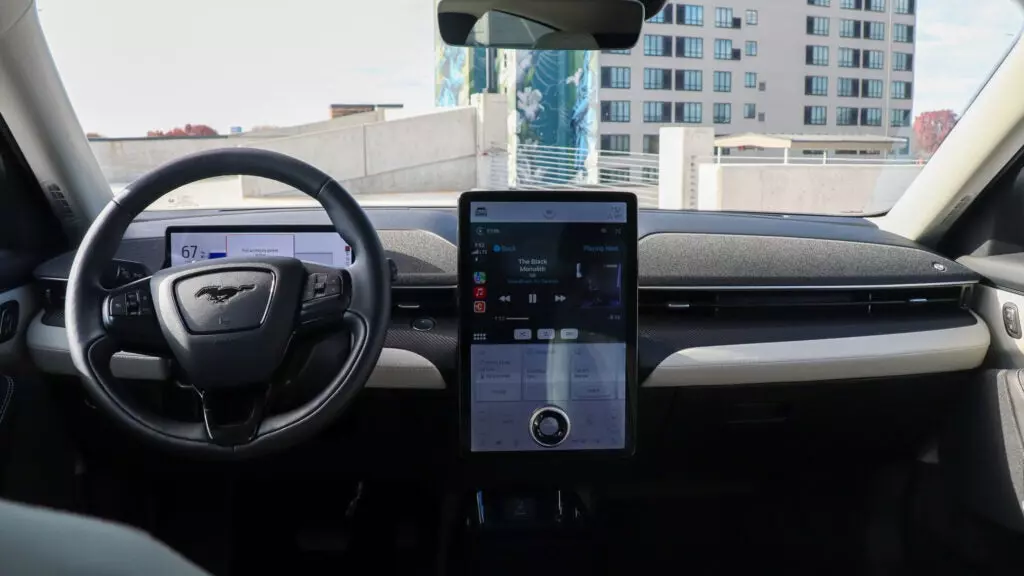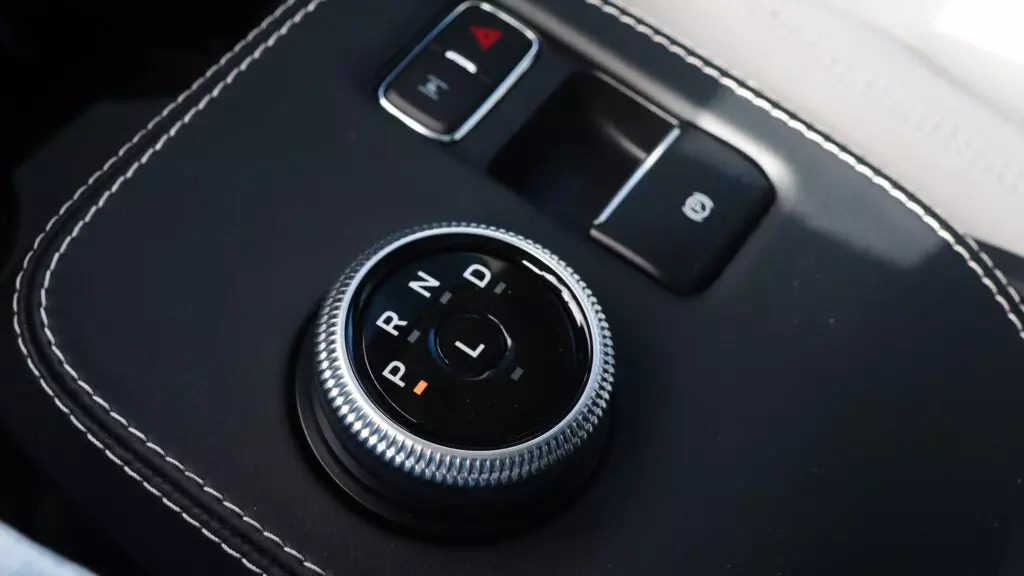 The dashboard plastics fit nice enough. But the material that surrounds the speedometer screen, while attractive, felt kind of hollow. The seats, both front, and rear were fairly accommodating; the front seats avoid the too-low cushion that sometimes comes with a tall, floor-mounted traction battery. The rear seats are solidly OK, headroom is average, and seating position would be fine for two or three adults back there. Both front and rear trunks are fairly spacious for what they are, and the front trunk's drain is a nifty feature.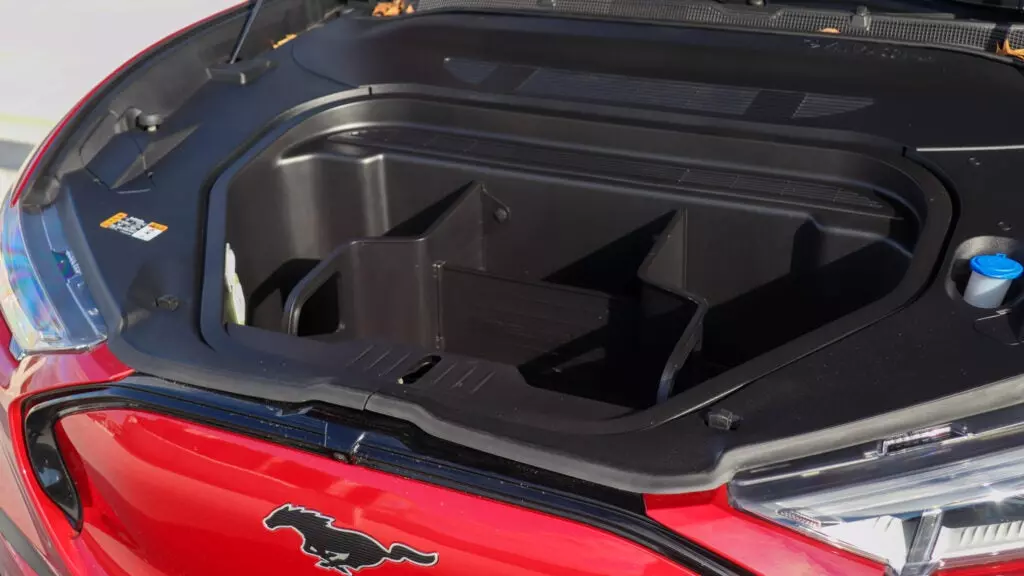 The Mach-E's infotainment and HVAC controls are located in the large centrally-mounted tablet, but the car's speed, gear selection, and mileage are in a skinny screen, mounted directly in front of the driver. The skinny speedometer screen is beautiful, it's fast and responsive, uncluttered, with the right amount of information to determine speed and battery life on the move. The speedometer's animations are pleasing, yet not distracting. My only wish there is for miles-per-kW to be displayed in the Mach-E's gauge cluster.
By comparison, the Mach-E's larger tablet screen is clunky and slow. The interface is too menu heavy; even changing drive modes takes a conscious effort to navigate through several menus to get from the docile "whisper" mode to the enthusiast-favored "unbridled" mode. Finding the vehicle's energy consumption and charging menus weren't that easy, either. Really, the Mustang's inconsistency was its most annoying feature. Sometimes selections in the menus were fast and quick, but more often than I'd like, the screen would suffer from selections that didn't register or jerky, slow animations as the system moved from one task to the next. The Mach-E's wireless Apple CarPlay worked mostly flawlessly, though.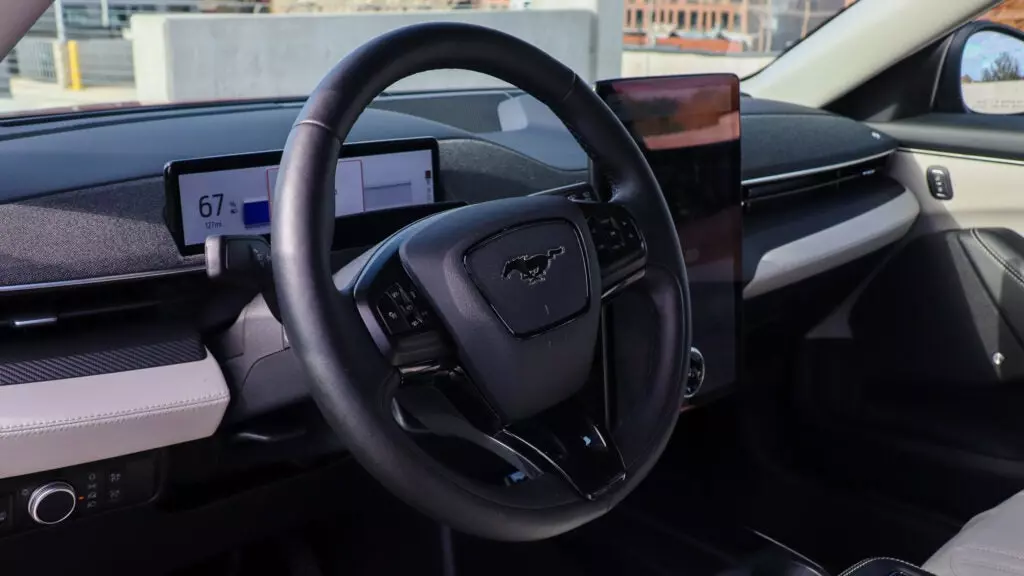 The HVAC system, on the other hand, kind of… didn't. At times, the heat was mediocre. The performance between "e-heat" and whatever conventional heating setup the Mach-E had, was not clear. Other times, the Mach-E's heating performance was completely fine.

"For e-heat, we use a PTC (positive temperature coefficient) device that converts electricity to heat and passes it on to the coolant. Its performance is dependent on ambient temp, coolant temp as well as the potential for fogging which may have affected the behavior while in use," a representative of Ford told me via email.
At the very least, the menus necessary to operate the HVAC are kind of fiddly. Ford went for a Tesla-style menu system to control, but when paired with a kind of dim-witted at times screen, the experience can be frustrating to use for some. Personally, it was simply a mild annoyance. If I owned the Mach-E, I'd get used to it.
It Drives Just Like a Regular Mustang. I Think That's a Compliment, Right?
The Mustang Mach-E is marketed as a crossover, complete sacrilege to the auto enthusiasts who say "bah, the Mustang is a performance coupe only." I guess they just kind of had their eyes closed from 1964 to 2007, when dinky four cylinders and three-speed automatics were commonplace in cars named "Mustang," making some of them as slow as a 1995 automatic Honda Civic, but I digress. Ah sorry, I said from the outset I wasn't going to roast Mustang purists… oops.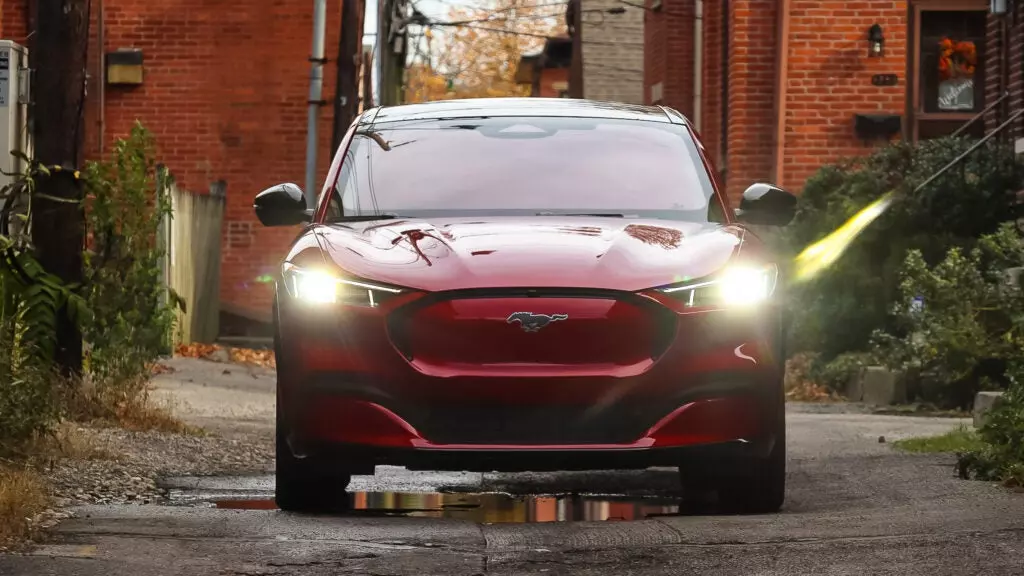 The last "real" (hah) Mustang I drove, was a 2018 automatic EcoBoost (four-cylinder), sometime in early 2019. I liked it, the 2.3 turbo had more than enough power, and the car handled great. But, the Mustang felt huge with a long hood, wide haunches, poor visibility, and heavy steering. Yes, we all know many versions of the Mustang is/are a bonafide sports car these days. But to me, it felt like driving a very fast house.
In that sense, the Mustang Mach-E also feels like a Mustang. On the road, the Mach-E and Mustang coupe feel about the same size, save for the Mach-E's driving position. Heck, the ergonomics are more akin to "hatchback" rather than a crossover, not a low-slung sports car, but arguably the base Mustang doesn't feel that way, either.
Even days after writing this, I can't tell if that's a dig at the Mustang coupe or praise for the Mach-E. Regardless, on the road, the Mach-E's pull is relentless. Its 346 HP from two motors scoot it from 0-60 somewhere in the high four-second range. The Polestar 2 was a hair quicker, but at these speeds, the difference doesn't feel like a big deal. They both feel fast.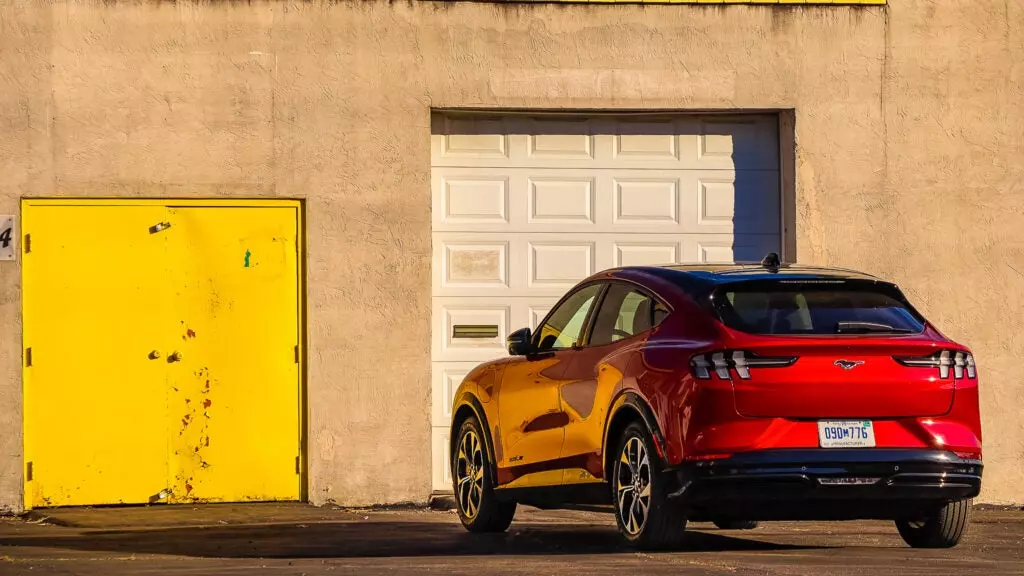 Despite its nearly 4,800-pound curb weight, the Mach-E feels light on its feet. Or rather, it feels about as hefty on the road as a Mustang coupe. The steering is a tad lighter than I'd prefer, but still full of feel, engaging, and easy to use. The chassis is tight, the suspension is well resolved between ride and handling, and the Mach-E is genuinely entertaining to throw in a corner. The Mach-E offers three drive modes, "Whisper," "Engage," and "Unbridled." Personally, I preferred Engage the most, I found that Unbridled's regenerative braking too aggressive.
Breathe on the throttle too heavily, and the Mustang's rear motor will turn its skinny 225 series to ash. I may have accidentally freaked out a passenger or two when I got a little overzealous in intersections. The Mach-E's rear end will step out without hesitation. By comparison, the Polestar 2's specs match the Mach-E tit for tat, but the Polestar feels decidedly front-wheel-drive biased. The Mustang's Mach-E is definitely in the Mustang family.
Efficient for Its Level of Performance, but Marred by Slow Last-Percentage Charging
The week I was loaned the Mach-E, winter weather had hit full swing. For the entire week, the temp rarely broke more than 45 degrees and held steady in the 20-25 degree range overnight.
Maintenance battery loss overnight was fairly high; the Mach-E lost 4% battery life just sitting outside in the cold, keeping the batteries warm. Ford recommends leaving the Mach-E plugged in overnight, especially in cold temperatures, but I'm a renter. I don't have those facilities. The Mach-E has to stay outside, unplugged.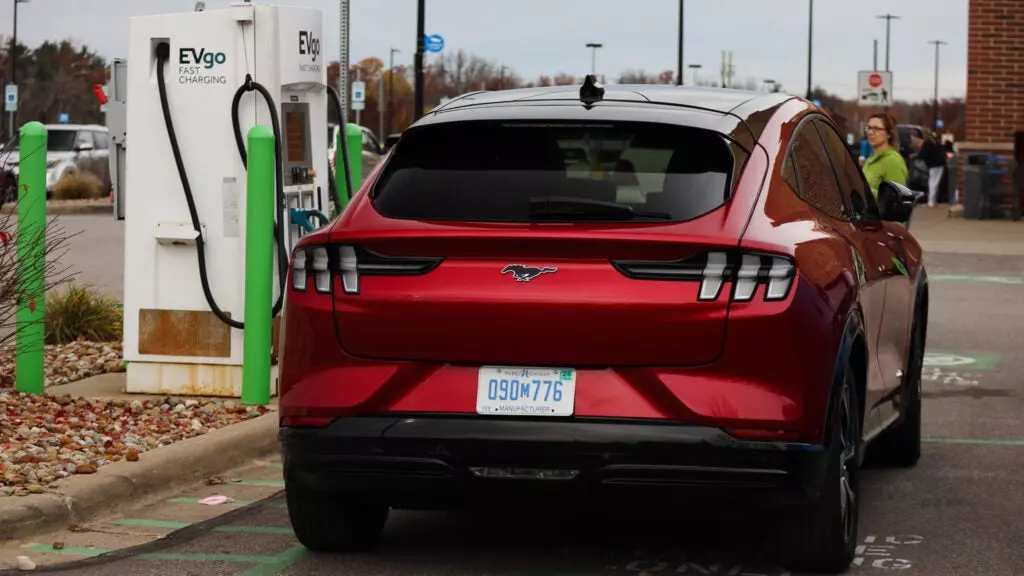 Over my 600 miles or so I drove in the Mach-E, the car would average 1.8 to 2.5 miles per kW, on the freeway, at speeds of 70-75, in the cold, with the heater on. In slower conditions, with the heat turned down, the Mach-E would regularly touch 3.5 miles per kW. By comparison, the Hyundai Kona would regularly sit above that, but it also has half the horsepower.
Not so good, however, was the Mustang's charging speed. Charging from 8% to 100% took a whopping three and a half hours; nearly double the time of the Polestar and VW ID.4. The Mach-E's onboard charger can handle a maximum of 150 kW per hour, and yes, the Mach-E will sail from about 20% to 80% quickly, yet its charging speed falls off a cliff, post 80%. Now, I know that DC fast charging generates an immense amount of heat, and these cars have to slow charging speeds down at around 80% in order to not damage the battery. Yet, the Mustang slows to nearly level 2 speeds, post 80% electrons trickled into the Mach-E at a rate of 12 kW or less, per hour. The Polestar, VW, and Kona's post 80% charging speed was at least double that rate, if they slowed down at all. Most of Ohio's DC fast chargers can't output much energy, they're all capped at 50KW per hour. In theory, they shouldn't generate that much heat.
In true Mustang fashion, it somehow ended up with a heftier fuel bill than the other electric cars I've driven, too. Most ChargePoint stations are billed on time, not kW hour. The Mustang took about 90 minutes to get to 80%, but then would take another 90 minutes to go from 80% to 100%. That is, if the car would even initialize with the charger. If you try and fast charge above 80%, the Mustang would intermittently flat out refuse to start charging.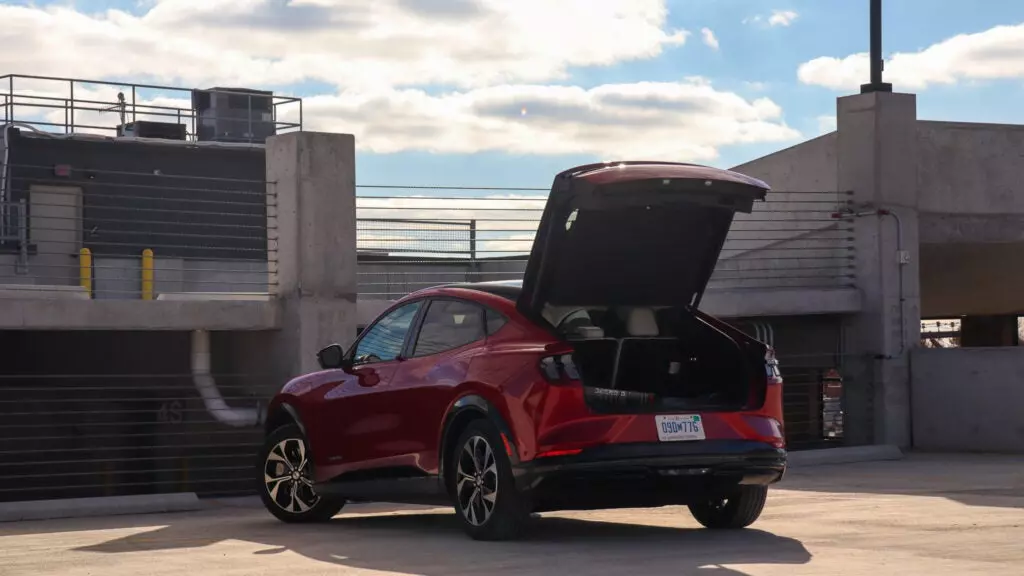 "Our strategy has been to optimize charge time from 10 – 80% however, we have recently made an update which will allow customers to charge more quickly up to around 90% – this is rolling out now as a customer satisfaction update," a representative of Ford told me via email.
For some, that 80% battery is probably enough to get them around for a little while, but I'm a renter with no home charging. Leaving with a less full battery means I have to return to the charging station more often, which is mega inconvenient. The Mustang's charging was so slow, I only charged it to 100% exactly one time, over the six charging events and 600-plus miles or so I drove the car.
The EPA rates the Mustang Mach-E AWD Premium at 260 Miles. In cold weather, mixed freeway, and city driving, the Mach-E would average around 175 miles, before I felt the need to find a charging station (at around 12% battery life remaining). That's an average of about 2.25 miles per kW. When extrapolated to the Mustang's 88kW battery, my driving style, and cold weather, the Mach-E was on pace to achieve about 200 miles per charge.
The Mustang Mach-E, Is a Mustang, for Better or Worse
What the hell is a Mustang, exactly? For some, that means a high-powered coupe, V8 engine only. I don't know where that came from, as for decades Ford offered four and six-cylinder options in cars that were sometimes less sporty than non-sports-oriented coupes.
I'd argue that "Mustang" was codified in the mid to late 2000s with the Mustang's retro redux. Ford always had special high-powered Mustangs, but the consensus was that if you got a V6 new retro Mustang, it wasn't real. And, lord, the hivemind of car nerds out there will not let that shit go. I'm sure there are plenty of people who think the EcoBoost Mustang isn't a real Mustang either. Or guys out there who think every Mustang should have a solid axle.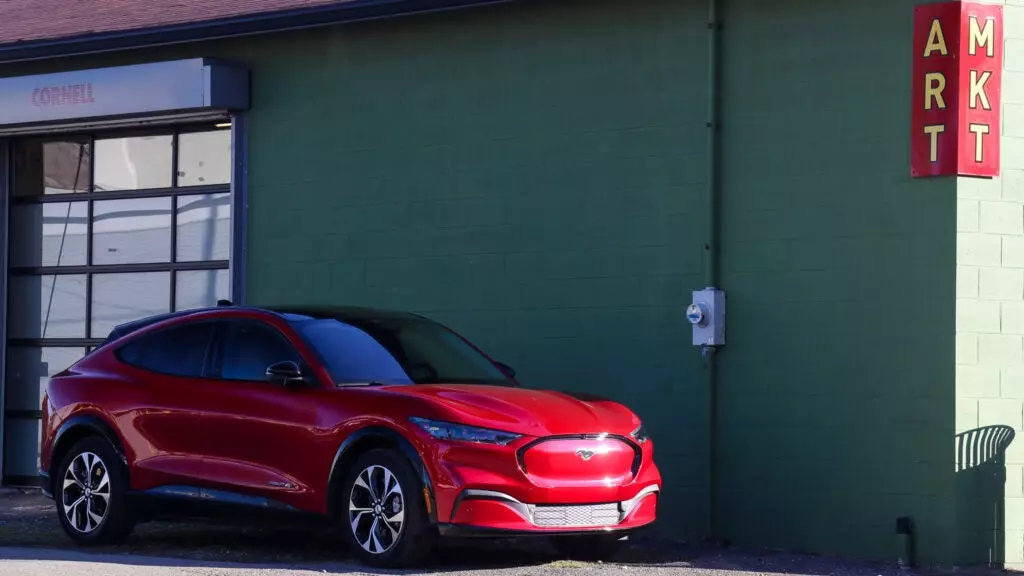 I don't really care about those opinions, and judging from the on-the-street reception I got, most laypeople don't either.
The Mach-E certainly imbues the Mustang spirit. It's remarkably refined, but maybe a bit rough around the edges. It's brash, yet approachable. It's fast, it makes you smile, owning and driving one is always an event. It's the type of car that, despite its flaws, you'll never regret spending money on it. It's a flex, it's an aspirational electro-wagon for a new era. Even with its flaws, the Mach-E is one of the best electric cars you can buy right now.
What to read next:
Car Autance launched a new series, Car Confessions and Hard Lessons. In the second installment, Matt Farah explains why ignoring his own advice on a vintage Ferrari cost him $10,000.
Kevin Williams explains why his Mazda 3's sticky melted dashboard left him infuriated with technical service bulletins.
VinFast is looking to enter the U.S. market, and the upstart Vietnamese automaker might be using an old Ford playbook to grab your attention.
This $1,902,000 Porsche is now the most expensive car ever sold on Bring-a-Trailer. Can you guess what it was?
Toyota got the Initial D creator to illustrate a GR86 commercial, and it's pretty incredible as far as advertisements go.