"TURNLEFTATTHATCACTUS!" a driving coach scream-wheezed through clenched teeth as the Ford F-150 Raptor I was driving slid around a sandy corner at 60 miles per hour. The patch of strained face visible through the window in the front of his helmet made him look like he may have been experiencing extreme bowel distress to go along with my greenhorn style of extreme off-road driving.
Ford had flown me out to its proving ground in a cactus strewn corner of Southern California desert, somewhere near the Salton Sea, to help us better understand the 2017 Raptor's already well-known capabilities​. Donning a helmet and flogging the new truck down a washboard track at 70 miles per hour certainly showed off what the Raptor can do—it had no problem going very fast over rough terrain without falling apart. But it also didn't leave much time for reflection. "Events"—the desert racing crowd's term for potentially life-threatening trail obstructions—popped into view with blinding, reaction-defying speed.
I said the truck slid—I wasn't doing much at all other than being nice to the accelerator pedal and moving the steering wheel back and forth. The Raptor seemed to do most of the hard work for me. Six pre-set terrain modes dictate the mood and response of the truck: "Normal," "Weather," "Sport," "Mud and Sand," "Baja" and "Rock Crawl." Each setting custom tailors shift points for the truck's 10-speed automatic transmission, engine tuning and transfer case selection (which can be switched between rear-wheel drive, clutched all-wheel drive and mechanically locked four-wheel drive) to best suit the terrain.
Baja mode was the go-to for high-speed off-road driving. Fast as we might have been going, a pre-runner for a trophy truck team would probably drive the track I felt bold traversing at 50-60 miles per hour as fast as 90. If you've never driven on rough dirt, where everything is the same color and "events" appear in the blink of an eye, 90 is really fucking fast. But it's nothing the Raptor's increased suspension travel, Fox Racing shock absorbers and BFGoodrich K02 all-terrain tires can't handle.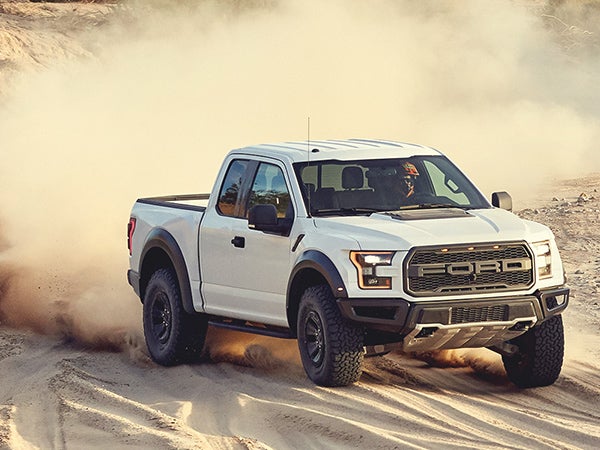 Ford
Normal mode was... Normal. Presumably tailored to around-town driving and relaxed cruising. This mode is also supposed to return the best fuel economy numbers, although the best the high output turbocharged 3.5-liter V6 can achieve is about 16 mpg on average. Not stellar, but considering how fast this truck can go over tough terrain and the pleasing roar its engine makes when you open it up, not shabby either.
Sport mode is also great for around town driving. Judging by the Raptors I've seen on the road near my own home, it's nearly impossible to resist the temptation to drive one like you're in a desert race, no matter how thick the traffic. This mode offers firmer shifts and optimized engine performance. On curvy roads through the mountains, the truck—which is, a bit surprisingly, equipped with rear leaf springs and lift blocks—handles well despite its 2-plus-ton curb weight.
While Baja mode utilizes a flexible all-wheel drive setting in the truck's transfer case, Rock Crawl mode locks the transfer case into traditional torque-to-all-four-wheels four-wheel drive, and locks the rear axle. With a super low first gear, the low-range setting on the transfer case drops to a 50:1 crawl ratio. I had a chance to test this out on some really steep "trails." Let me qualify that, although the trail was a marked course that had been carefully prepared, parts of it looked impossibly steep. As it had on the high speed course, the Raptor practically drove itself.
When Ford announced at the 2015 North American International Auto Show that the new Raptor was to be powered by a 3.5-liter EcoBoost engine, I greeted the news with dubious surprise. Sure, the 2017 model produces 450 horsepower and 510 pound-feet of torque—more than last year's model. But like other old-fashioned gearheads, it's tough for me to shake the notion that a V6-powered performance vehicle is two cylinders short of a full package. I ran into Stacey David, from Velocity's Gearz (if you're not familiar with his show, you aren't a real gearhead), and he agreed with me on this point. But after driving the truck, I can confirm that no, the Raptor does not need more power than it has. The EcoBoost squeezes a ridiculous amount of power out of six cylinders—enough to get into and out of trouble easily. Mr. David seemed to share my change of heart.
For all that the Raptor does well—desert driving and rock crawling in particular—it's not the best vehicle in any one specific area. Ford likes to boast of its performance truck's completion of the Baja 1000—an impressive feat to be sure—but it's not to be confused with a racing truck. A solid, easy-to-drive rock crawler it may be, but there are also a great many more capable rigs out there competing on the gnarliest boulders, while Raptors sit on the sidelines. As a highway cruiser, the Raptor floats along like an old Cadillac, a bastion of serene comfort. But because it's a truck, the sub-20 mpg highway fuel economy leaves something to be desired (Ford's turbo 2.7-liter V6-equipped F-150, while not an off-road monster, is available with four-wheel drive and will get close to 24 mpg on the highway).
All this is to say that compromises were made in some areas so that the Raptor could really shine as an all-around performance truck. At this point in the game, none of the other manufacturers build anything that comes close. But perhaps the biggest compromise Ford made in order to create a capable everything-rig is price. The Raptor, for all its great qualities, is expensive. It's a quality shared with other full-size pickups available in the North American market, including, as I pointed out earlier this year, Ford's very impressive Super Duty trucks.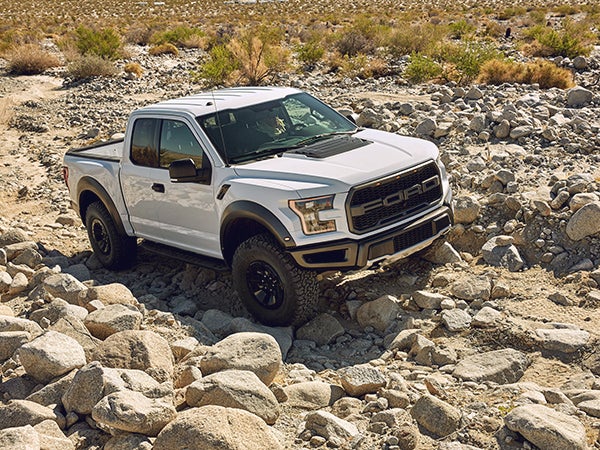 Ford
Allow me to crunch some numbers for you: A bone-stock F-150—white with a short bed, rear-wheel drive, vinyl seats and steel wheels—goes for just under $28,000. Assuming you put down at least 10 percent when you finance, the monthly payments on a four-year loan with a low interest rate would be more than $500 per month (not including insurance and other costs). According to inflation-adjusted U.S. Census Bureau data, median household income in the United States is currently about $57,900 per year, or $4,800 per month. You see where this is going.
The F-150 Raptor starts at close to $50,000, but I doubt that there will be many stripped-down Raptors sitting on dealership lots. My guess is that most of them will be handsomely optioned. The models we tested with Ford in the desert—trucks equipped with four-door cabs, electronic everything, beadlock wheels and a really nifty 360-degree camera system that helps the driver see off-road obstacles without having to stick his or her head out the window—listed for nearly $65,000. The four-year loan payments on those models would be almost $1,700 per month, depending upon the interest rate secured by the buyer.
Of course, many people go for six and seven year auto loans, but if you think that's a good idea, I have some prime real estate near the North Pole I'd like to sell you (Ford claims a three-year value retention of nearly 88 percent for Raptors, a statistic supported by NADA's valuation of 2014 models). The payments on a 75-month loan, should one choose to go that ill-advised route, would fall down below $950, according to the payment calculator on Ford's website. But that's still a steep monthly bill, and it doesn't include insurance, property taxes and annual registration fees.
Sorry, John Q. Medianincome, this truck's not for you. If you had dreams of bombing through the desert in a really badass truck, better start looking for a much cheaper one on Craigslist so that you can spend all your disposable income building it into a sweet rig.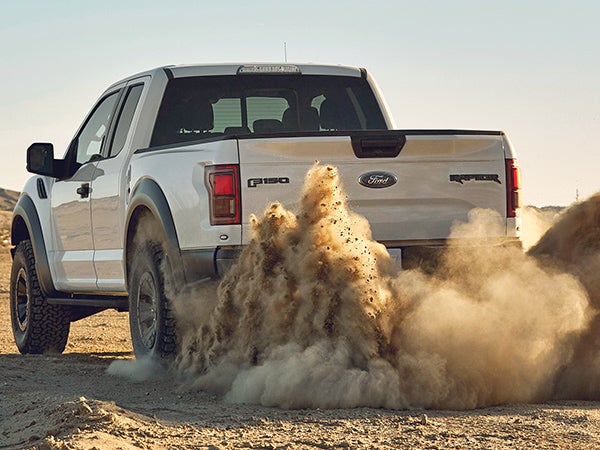 Ford
I bring up all this money stuff because the tone among Ford's friendly PR folks at the Raptor media junket was one of inclusivity and practicality. And people do spend a lot of money turning otherwise stock trucks into machines that can do what the Raptor does, only not nearly as well. The annals of PR lore included epic tales of off-road enthusiasts who, tired of the never-ending struggle brought on by tinkering with one-off builds, saw the light and chose instead to shed their money in neat monthly payments to FoMoCo. No fuss, no muss, all fun, the Fordlings suggested.
Regardless of who the 2017 Raptor is actually for—successful pro racers in need of a suitable daily driver, median income proles intent upon depleting their paychecks on mechanical masculinity or rich people desirous to defeat effete urbanity—it has already proven wildly popular. Ford won't share specific numbers, but they said coyly that pre-orders for the new and improved model—which opened up Nov. 4—were already going gangbusters.
One of my fellow junketeers—a guy who admitted that he'd looked into buying a 2017 Raptor himself—said that in his area, new Raptors were selling for $15,000 above sticker. While I can't verify that number, it's the sort of urban legend that will only reinforce the Raptor's status as the baddest-ass mass market pickup money can buy—which it is.