I'm not the type of writer to "yuck your yum." If you like it, I love it. There's room for all shades and tastes of enthusiasm under the big automotive love umbrella. But the good Lord knows that the new GMC Hummer EV puts that ethos of mine to the test. Car and Driver recently found out that the Hummer EV's battery pack alone is 2,923 pounds of the vehicle's total 9,063-pound maximum curb weight, and I feel like we'd be remiss if we didn't address that staggering number. In case you're not sure how heavy 2,923 pounds is, here are some visual explainers for you.
The Hummer EV's battery pack is heavier than the following staff-owned vehicles, which are picture below the stats:
Furthermore, it is is 344 pounds heavier than the 2012 Mitsubishi i-MiEV (2,579 pounds) but 248 pounds lighter than Chris Rosales' "6 Iron" 2010 Volkswagen Golf GTI (3,171).
It also exceeds the tow limit of all subcompact and compact crossovers, except for certain trims of the Jeep Cherokee, Ford Escape, Ford Bronco Sport, and Subaru Forester. 
I know the Hummer EV is supposed to be a tour-de-force showcase of what GM can truly do with EV technology, and on some level, I admire its ostentatious, larger-than-life persona. Creating a vehicle that has a battery that weighs the same as your favorite not-so-old hot hatchback, doesn't feel very green or environmentally friendly. A vehicle that weighs almost 10,000 pounds and can accelerate from 0-60 in three seconds is technologically impressive, but is it in good taste? Frankly, this vehicle seems like too much truck for any one person to own.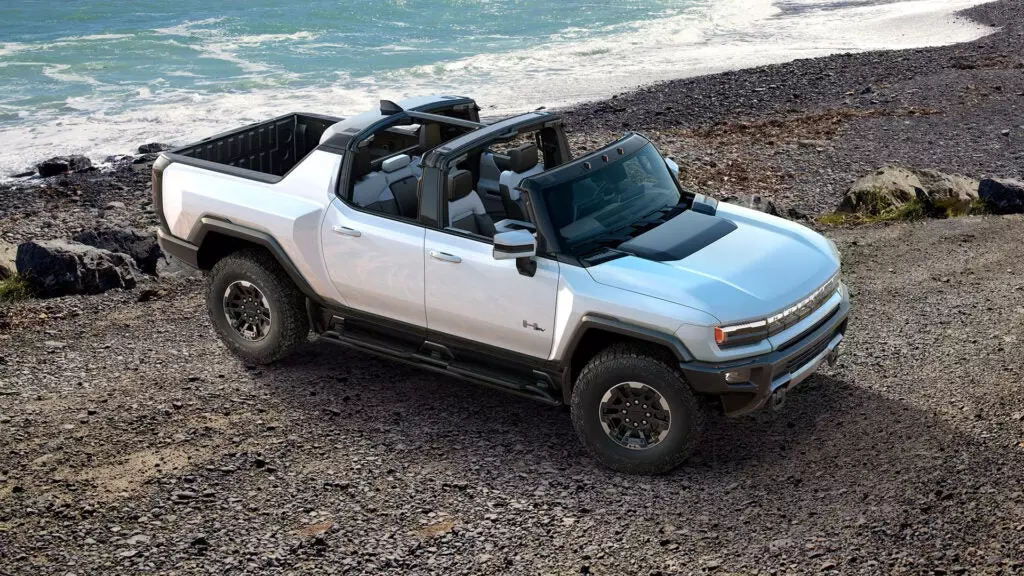 Still, the Hummer EV's arguably overkill battery pack is a testament to how far battery technology has come. The truck generates 200 kWh out of a 2,923-pound pack; the Hummer EV would average 14.6 pounds per kWh, half the pound-per-kWh figure of my i-MiEV. The i-MiEV only musters 16 kWh from its 520-pound battery pack, averaging 32.8 pounds per kWh. Imagine how much further a Mitsubishi i-MiEV-like vehicle could go if it had modern battery technology.
I'm not going to stop you or judge you (that much) if you choose to purchase and operate a new GMC Hummer EV. Just please don't forget that you're driving a huge vehicle that has supercar acceleration and weighs as much as three mid-size sedans. The Hummer EV is a lot of truck, and I fear that many buyers might not understand how much truck it really is.
What to read next: