With every form of off-road driving growing in popularity, the debut of the 2021 Ford Bronco couldn't have been better timed. Its retro design further helps its case, and so far, the Bronco's been a 4×4 hit. Demand is insane, and it's pretty rare to find one that hasn't been marked up at least a couple of grand by dealerships.
People dig the modern throwback aspect both in its chassis and its styling. Its intended purpose as a rig that can play in the dirt and mud all day and then get hosed off and out is very much apparent and appealing. There's even a drain plug on the cabin floor.
There's another icon of off-roader design that has a similar story: the original Land Rover Defender. With its boxy styling, no-frills interior, standard manual transmission, and big clearances, it too looks like a sturdy bruiser that can go anywhere and deal with any form of terrain. So, when the new Defender debuted last year, there was something missing.
The new Defender possesses throwback styling and extensive capability off-road, but as far as being a bare-bones workhorse like the OG… well, it's not that at all. It swings significantly more modern luxe in its interior appointments, insulation, chassis, and suspension. Although sturdy materials make up the majority of its cabin, you definitely wouldn't want to attempt to hose it out like you apparently could with the old Defender.
I recently got my hands on a 2021 two-door Ford Bronco Black Diamond package. Its base price was $38,440, then after some minor options, the $1,495 Black Diamond package, and destination charges, came to a total of $42,025.
I couldn't help but extensively ponder the question: Is the new Bronco more like what enthusiasts think the new Defender should have been?
A Focused Exterior and Interior
The two-door Bronco exudes capability. My tester had black steelies, a hard plastic removable roof, and a generally no-frills appearance. Well, besides the addition of rock sliders, skid plates, and more off-road capable 32-inch General all-terrain tires (with a spare on the tailgate!), per the Black Diamond's included features.
It also has conventional passive suspension — no cozy airbags up under its wheel arches. The clearances are absolutely massive, and when you peek underneath the back, a big live rear axle is hanging there to quickly inform you that this thing is a traditional body-on-frame truck. Well, sort of, because it has independent suspension up front. The numbers add up, too: its approach, departure, and breakover angles are 35.5 degrees, 21.1 degrees, and 29.8 degrees, respectively.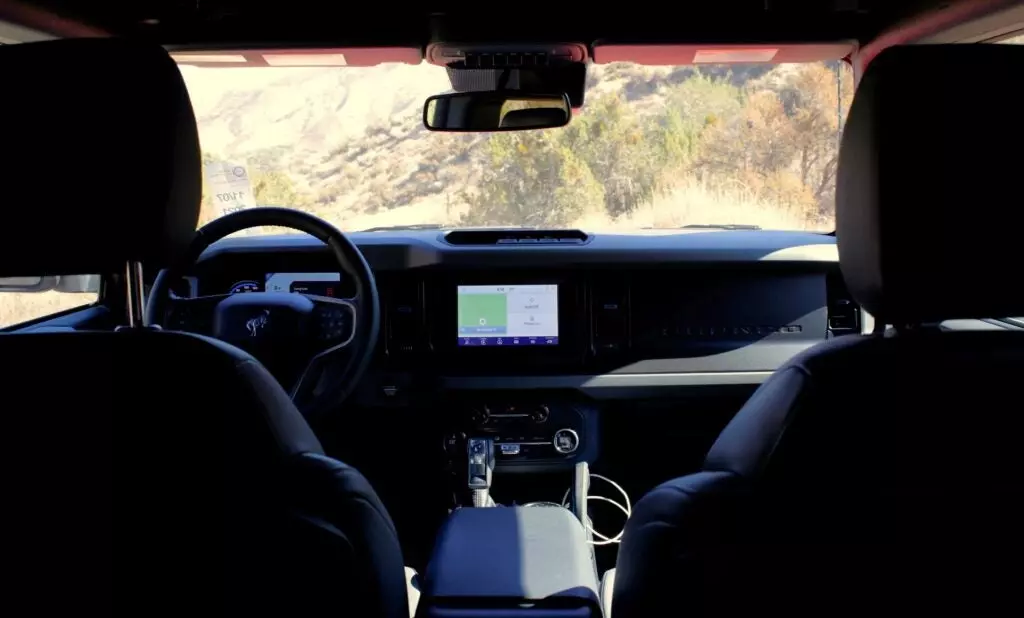 The overall look suggests it's rarin' to go. It looks like it wants to be hustled around and driven with enthusiasm on any surface, but its preference is playing around on anything that's unpaved.
Inside, it has a pretty simple interior. It looks like it's designed to put up with all things dirt and mud, and then everything else is standard Ford fare with some added auxiliary switchgear. Materials are thin, hard, and hollow, and the infotainment screen is small and laggy. But honestly, who cares? That just means it's easier to wipe down and clean out. It's meant to mob off-road for short money, not carry you along in the lap of luxury. By comparison, the new Defender is very luxurious, and a far cry from the original Defender's power-nothing, bare-bones amenities.
Old And New School Off-Road Chops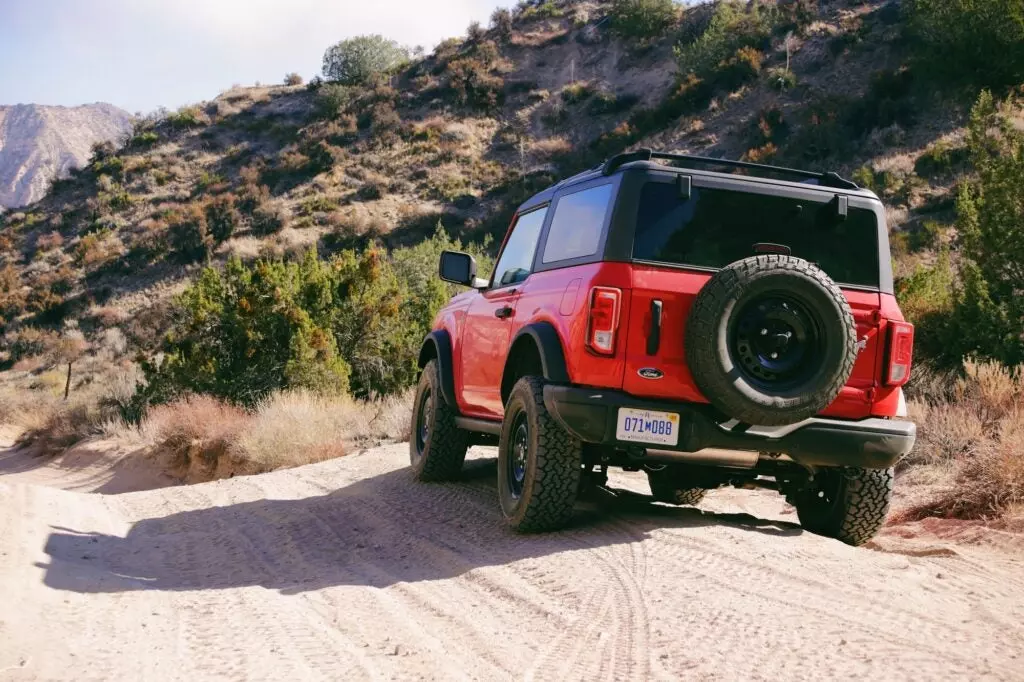 This certainly paid off, as the Bronco is an absolute beast off-road. Ford calls its driving modes suite G.O.A.T., which stands for Goes Over Any Terrain. Like I thought during my experience in the 2021 Bronco Sport, how cheeky. A few are for the pavement, but most are tailored for specific off-road terrains, such as Sand, Mud/Ruts, Rock Crawl, and Baja. But the thing is, these weren't really all that necessary for the majority of the off-road driving I did in the mountains above Southern California.
I mostly kept it in the Normal mode, and only ventured into Sand when I was indeed in deep sand and gravel. The thing clawed through all kinds of terrain just fine without any custom electronic throttle, ABS, or differential assistance. I didn't use any form of hill climb or descent assistance, either. Just low range, a locked rear differential, and light brake inputs. I also kept the Bronco's shifter slapped to the port side in manual mode so I could let the drivetrain's resistance do most of the work while descending hills.
This is very similar to how I drive off-road in my old-fashioned Discovery 1. The Disco only has a locking center differential, and you have to physically move a shifter to get to low range, rather than turn a switch like in the Bronco. Otherwise, I used the same methods for steep climbs and descents, kind of like how you would behind the wheel of the Discovery's sibling, the old Defender.
Because of all of this, you can drive the Bronco more like an old-school 4×4 than the new Defender. Also just like the Discovery, the Bronco enjoyed an enthusiastic romp up flowing, curving trails filled with deep sand and gravel. It just ripped its way right through everything. At one point I decided to make things interesting by switching to 2WD. This, dear reader, was one of the best decisions I've made during a review of all time.
The Ability to Up the Thrills with the Turn of a Knob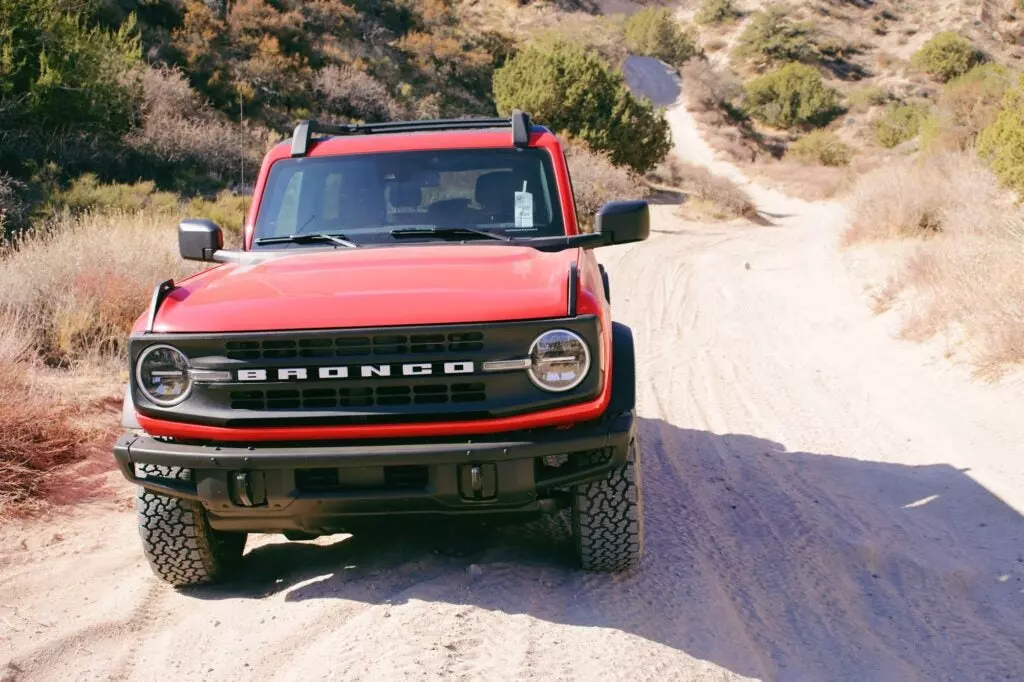 Feeling the rear end move around ever so slightly at very safe speeds added a lot of fun to the experience. It also helped me judge how much work was being done by the tires, and how quickly the short 100.4-inch wheelbase reacted to dips, divots, bumps, and other dusty road features.
Going one further, turning off traction control upped the fun factor immensely. At a maximum speed of just 25 mph on big, wide-open gravel trails, it was so incredibly fun to let the Bronco's rear end break loose and slide around. Then, to correct the little chassis back into line, some modest opposite lock or quickly letting off the gas did the trick. Quickly letting off the gas behind the wheel of something much more powerful on the street in a slide has dire consequences, which is why my right foot and hands were a little confused at first. But once I got the hang of it, my God, it was so easy and fun to slide this little red beast around. The big tires could be willed into a slide with a light flick, but they quickly regained traction due to their very knobby contact patch.
Its little 2.3-liter EcoBoost engine helped make this possible. Because it's tuned for low-end torque, it barely requires any pedal travel to coerce the chassis into tail-out rascality on a slick gravel road.
The two-Door Bronco Badlands weighs in at 4,705 pounds, which is portly, but not bad by body-on-frame off-roader standards. At first, 275 horsepower and 315 pound-feet of torque doesn't sound like enough, but it is. It'll snap off a run from a standstill to 60 mph in 7.5 seconds, which is more than ample for any scenario, especially in the dirt.
Little To Complain About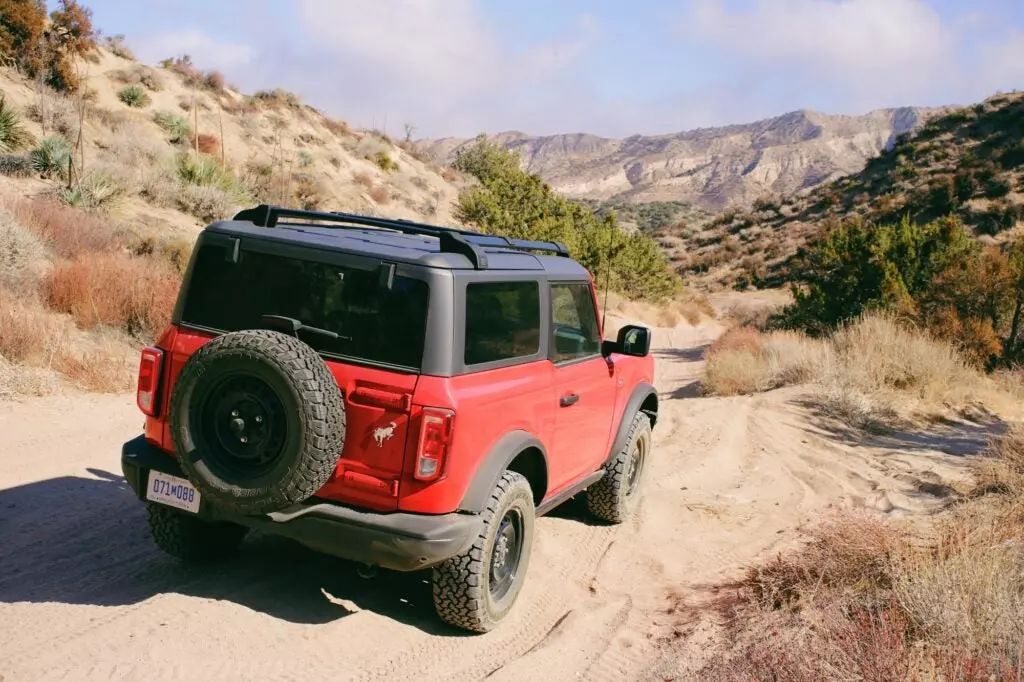 The only piece of kit I became annoyed with on the Bronco was its 10-speed transmission. It's happy to smoothly and quickly shift with light to moderate throttle, however it's quite laggy and shaky when responding to more pressure. It takes a minute to determine which of its 10 close-ratio speeds is best for the task at hand. In the dirt this isn't really an issue, especially by keeping it in manual mode, but it's enough to be an annoyance on-road, traveling to and from said dirt.
On-road manners are generally good otherwise. In fact, its elevated and upright driving position, torquey engine, and short wheelbase make it an excellent city street runabout. Road and wind noise are rough, but this is generally forgivable due to being a purposeful off-roader. Long hauls on pavement would be rough, and this is where the new Defender with its much more insulated and comfortable interior would have the upper hand.
Notes of OG Defender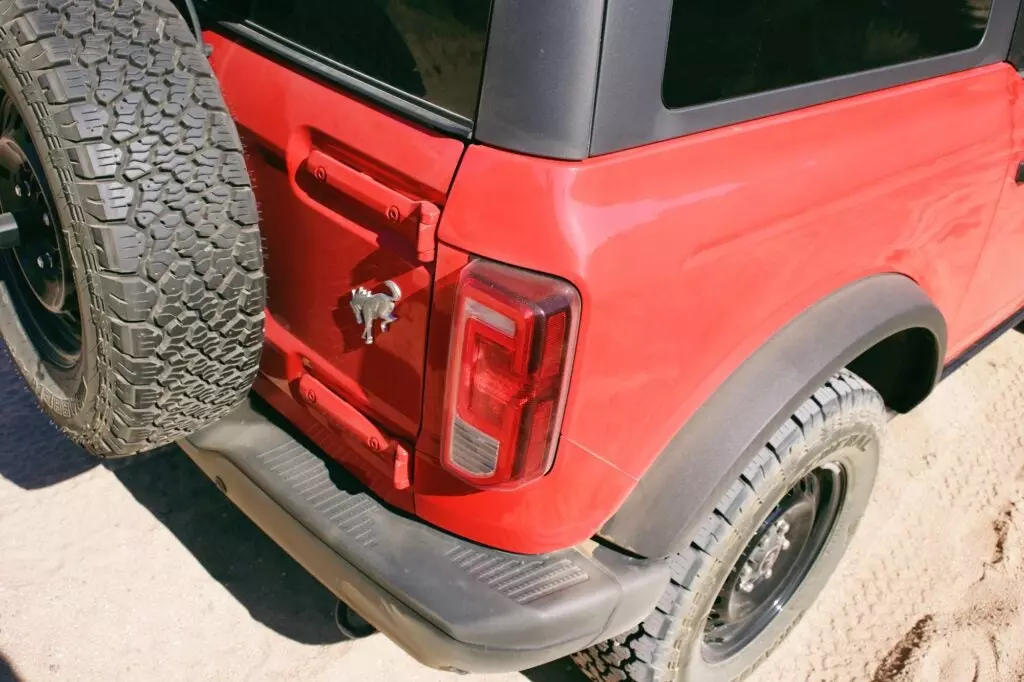 A lot of this is reminiscent of how people describe the original Defender. Barely any insulation, a very basic interior filled with hard plastic materials, and short gearing (well, at least in comparison to the first half of the Bronco's 10 forward gears), but fun and full of personality for being a plucky, determined off-roader. Plus, its form-following-function exterior gives it a very aesthetically pleasing look.
Then there's the way it rides. Although I haven't ridden in an original Defender, write-ups and video reviews suggest it rides a tad harsh. Plus, it doesn't help that it's body-on-frame with straight axles fore and aft, and a wheelbase of either 90 or 110 inches is short no matter how you slice it. Enthusiasts were hoping for something more like it in the new Defender, but between its plush well-insulated interior, unibody design, and lack of a manual transmission option, it landed quite far off of the mark.
The Bronco, by comparison, rides comfortably, but you never forget that it's body-on-frame with a live rear axle. Or that it's very maneuverable thanks to its short wheelbase that measures just 10 inches longer than the two-door old-school Defender. Both have conventional, passive suspensions that possess a lot of travel, too. In fact, I bet in a real frame-twister of an off-roading scenario where axle articulation is fully extended, the back-end of the Bronco would look a lot like the back-end of an old Defender 90. Or its sibling, the Discovery 1.
Thoroughly Worth the Hype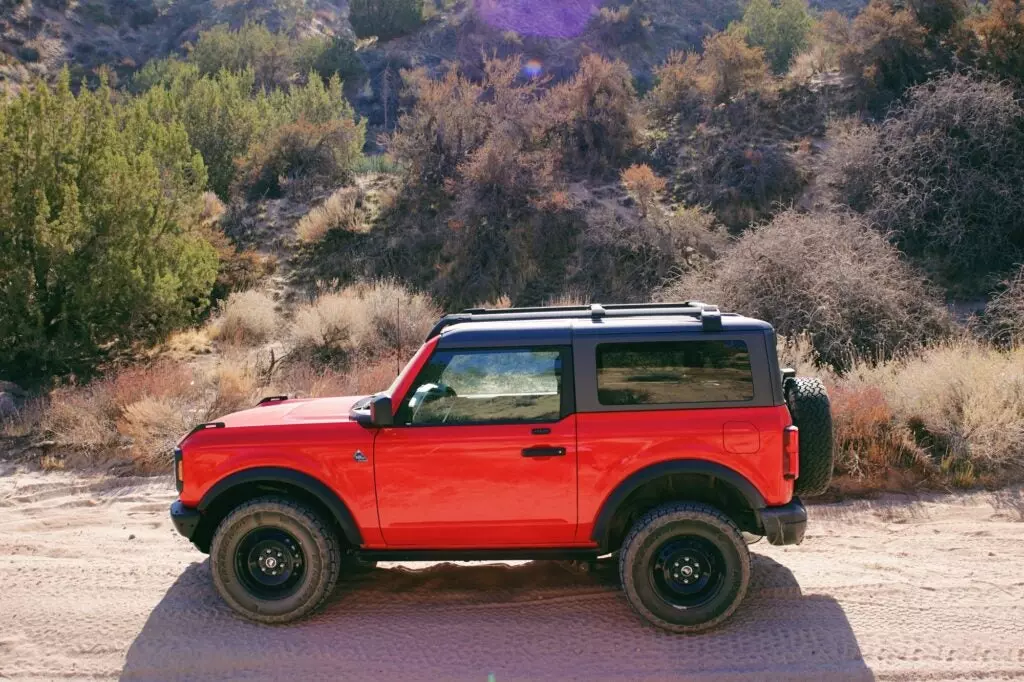 If you're like me, where you're sometimes a contrarian at first about things that have a lot of hype, rest assured: the 2021 Bronco is worth it. It oozes character, it's a blast to drive off-road, looks great in person, and is immensely capable. Its looks, as well as joy in simplicity is massively appealing, and definitely channels the spirit of the original Defender. Again, I adore the new Defender: it's comfortable, fast, quite capable, and looks great. but it's not the bare-bones body-on-frame bruiser that off-road enthusiasts truly wanted. For anyone after a modern interpretation of the OG, they'd probably be happier behind the wheel of the Bronco.
I doubt this would ever be put into production but imagine if Land Rover came out with a throwback spec of sorts. I'm talking barely any interior amenities, the base turbocharged four-cylinder engine, less insulation, steelies (well, the base model already has steelies), passive suspension with a modest lift, knobby tires, and some rock sliders thrown in with its already-appointed skid plates. Sure, it'd still be unibody with modern, non-live-axle suspension, but it'd be a lot more appealing to the corner of the market that wants that old school feel, and potentially at a far lower price. Perhaps that would be a hit. Though, the new Bronco would still be the more throwback-capturing buy due to its body-on-frame design, rear live axle, and very short wheelbase.
What to read next:
Car Autance launched a new series, Car Confessions and Hard Lessons. In the second installment, Matt Farah explains why ignoring his own advice on a vintage Ferrari cost him $10,000.
Kevin Williams explains why his Mazda 3's sticky melted dashboard left him infuriated with technical service bulletins.
VinFast is looking to enter the U.S. market, and the upstart Vietnamese automaker might be using an old Ford playbook to grab your attention.
This $1,902,000 Porsche is now the most expensive car ever sold on Bring-a-Trailer. Can you guess what it was?
Toyota got the Initial D creator to illustrate a GR86 commercial, and it's pretty incredible as far as advertisements g