Some of my fondest childhood memories are rooted in some form of camp. Whether it was day camp when my age was in the single digits, a school-officiated outdoor education weekend at the tail-end of elementary school, or a week of Boy Scout camp, I have always savored the opportunity of having a full day to do nothing but take part in some fun activities and challenges in a forested environment. It's great to get a little exercise, breathe in some fresh air, and avoid screens and technology for at least a few hours. I still cherish these kinds of opportunities, and I don't think I'm alone in this sentiment among many of my fellow adults.
That's why I jumped at the opportunity to take part in the Land Rover Trophy competition in a journalistic capacity. I quickly pitched this one-day event to my editor Andrew Collins, he gave me an enthusiastic thumbs-up, and I was off to the races. Or rather, challenges.
Full-disclosure: Land Rover USA invited me out to Asheville, North Carolina, to take part in the Land Rover Trophy competition and paid for my flight, hotel, transportation, and meals.
What Was It?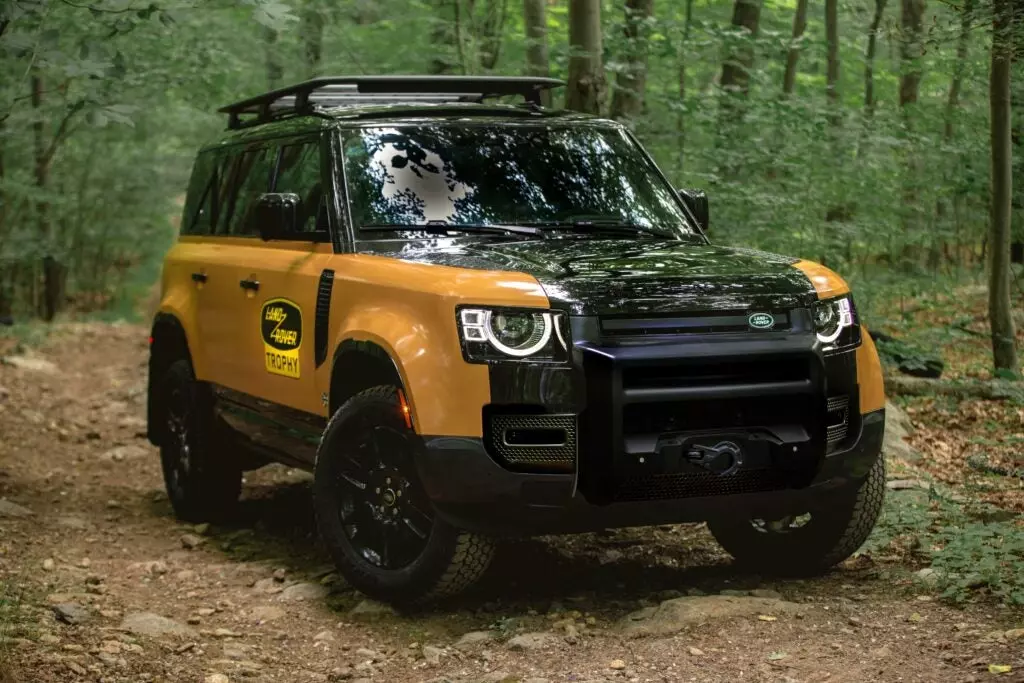 The Land Rover Trophy was an adventurous opportunity for the 220 folks who bought the limited-production 2022 Land Rover Defender Trophy Edition. It came in the form of a day-long competition at the Biltmore Estate in Asheville, North Carolina, where owners would bring along teammates and undergo a series of skills and physical challenges, with some GPS navigation and off-road driving thrown in for good measure. Rest assured, the latter was legitimately challenging in some instances.
A total of 81 teams competed, with competition days stacked one after the other during the week I was in Asheville. On the day I was there, there were no more than 15 other teams competing.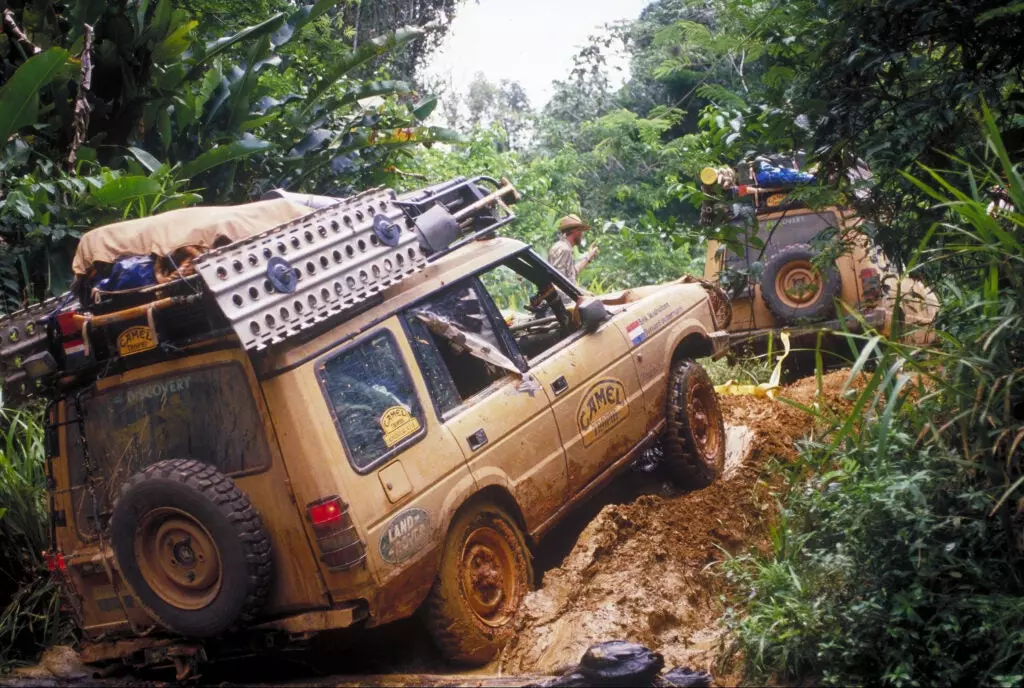 It's a throwback to Camel Trophy, an epic days-long off-road challenge that took place in harsh environments around the globe. It's often referred to as the Olympics of off-roading by the press, as well as its long list of alumni. Competitors were in two-person teams and came from all over the world. During Camel Trophy's run, Land Rover was the official vehicle for most of it, with the original 110, later named the Defender, being the chosen platform for a good number of events in the '80s. After the Discovery 1 became the official competition vehicle in 1990, there were still a handful of Defenders in the mix as support vehicles.
I was among the small gaggle of journalists invited to not just report on this significantly abridged 2021 version of the Trophy, but to also take part and have fun. I was teamed up with Jeff Aronson, Editor of Rovers Magazine, a high-quality, free publication (they do a printed magazine!) put out by RoversNorth.com.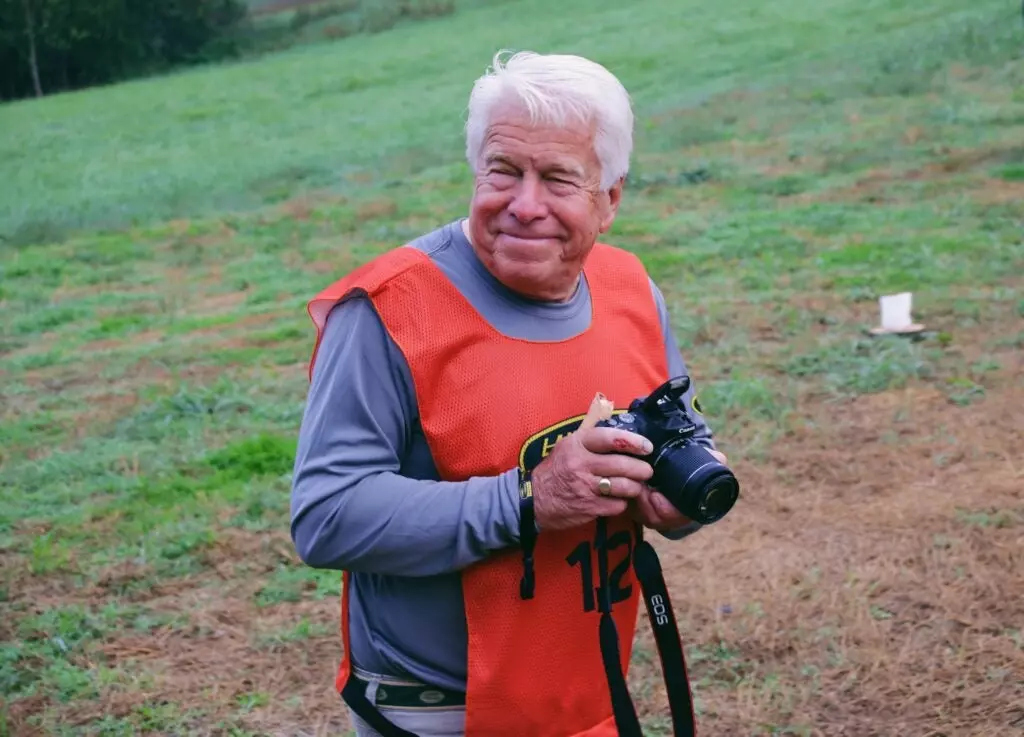 Jeff's also a fellow Discovery 1 owner. We actually named our team Team GEMS, after the ultra-basic engine management system shared by our old-fashioned Solihull steeds.
Participants were tasked with creating a team flag prior to their competition date, don some official competition apparel, and set out to try and rack up as many points as possible at various stations on the estate's several-thousand-acre grounds. The team with the most points after six hours of competition would be dubbed the winner. Each station featured an activity that had a set maximum amount of points that they could earn.
Some activities were physically tough, others were mentally tough, and all of them required a heavy helping of teamwork. Many of the activities tested your competency of, or gave you a strong taste of, very common off-road situations. Or, truck stuff in general, like hooking up and towing a trailer. Some even required two teams to team-up with each other, though I didn't get to experience this first-hand. The time constraint was between 9 a.m. and 3 p.m., and those who finished late would suffer point penalties.
The Prep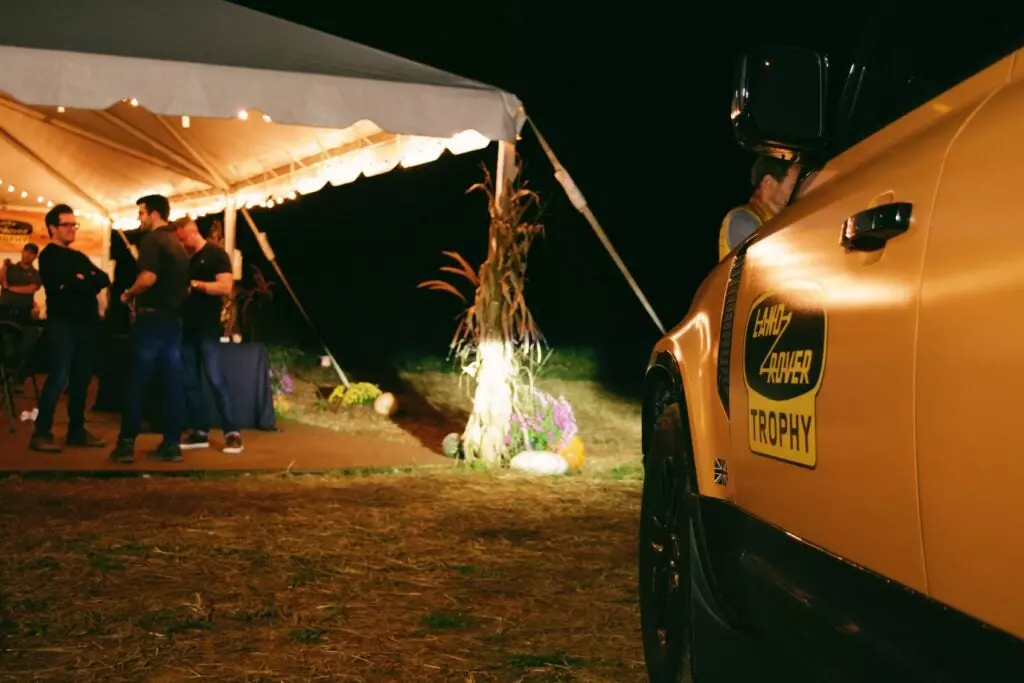 Before I dig right into the day, first a bit about the prep to help make the competition go as smoothly as possible.
The night before, Land Rover instructors went over the competition's ground rules, offered some tips, explained how the next day would unfold, and even spent a good amount of time demonstrating how to use some of the equipment we'd encounter during the competition. I got a thorough lesson on how to use an electric winch, Hi-Lift jack, handheld GPS unit (it had been a minute since I'd used non-iPhone GPS), and more. The evening concluded nice and early to ensure we'd all get a good night's rest, as the next day would prove to require as much attention and physical strength that we could muster.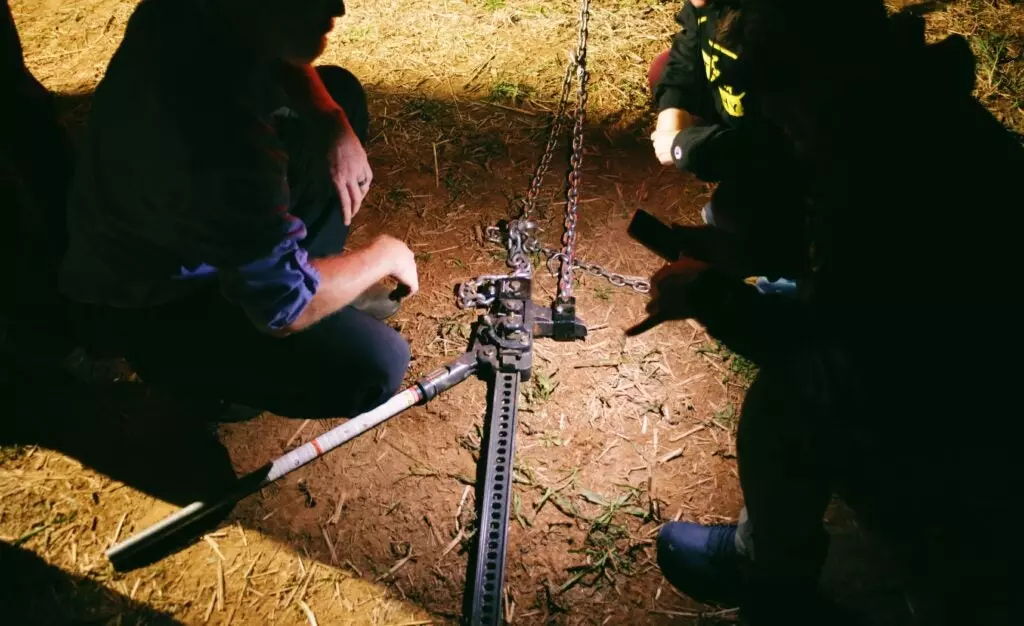 The next morning, following a hearty bacon, coffee, and oatmeal-filled breakfast, zero hour approached way quicker than my Pacific Standard Time biological clock was prepared for. Luckily, the massive amount of excitement, caffeine, and adrenaline coursing through my body filled in any gaps in energy, and we were off.
Zero Hour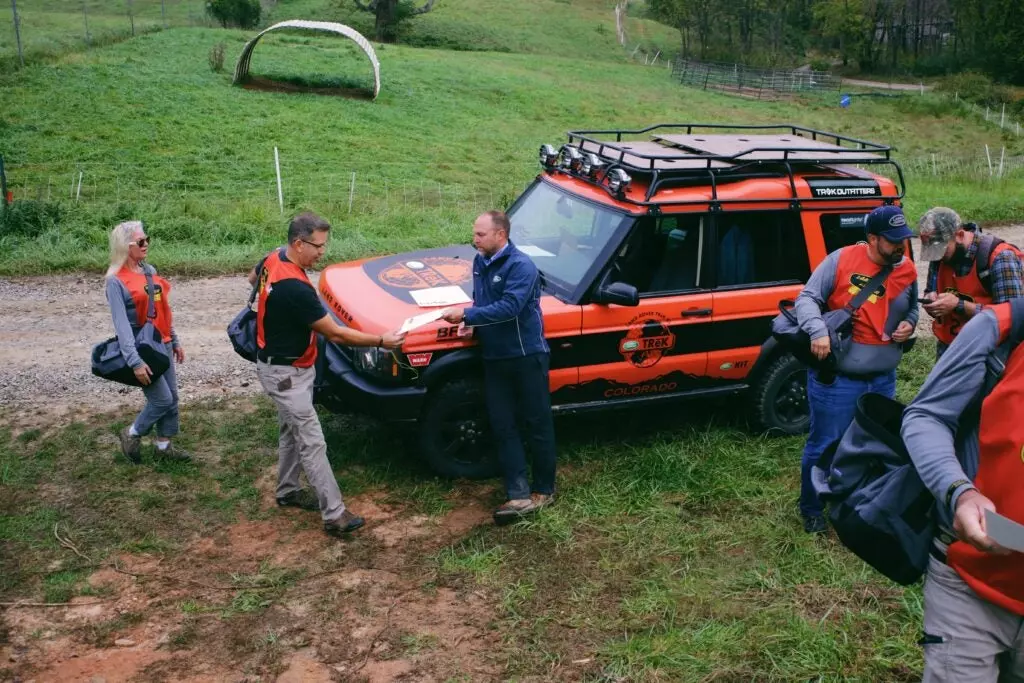 To start things off on the right competition-oriented foot, our Defenders were nowhere to be seen from the starting line. When the clock struck 9 a.m., Jeff and I began our trek out into the Biltmore's grounds, in search of a very-fresh Defender 110 with our team's number on it.
After a brisk quarter-mile jog, we were met by an instructor who was standing next to a pristine TReK Challenge Discovery 2 handing out GPS coordinates. These would lead us to where our Defender 110 was waiting for us. This sent us on an approximately half-mile hike through mud, up and down some hills, and past some truly picture-perfect, agricultural-slash-forested grounds. My rudimentary GPS skills proved that they'd made a useful comeback (you know, following the arrow on the little screen), as we got there in good time and before most of our fellow competitors did. We hopped in our fresh, bright yellow steed and were finally in business. With a rudimentary map and GPS coordinates for each station, we headed out in search of some points.
Our initial game plan was to head down to the south end of the property where a handful of stations were, with hopes that there wouldn't be very many other teams already there. When stations are occupied, you're faced with the tough decision of letting the clock run down while you wait for them to become free or take off and find another station. Along the way we passed an unoccupied station with an unhitched open-top trailer and a sea of yellow traffic cones. This one was referred to as Wide Load on our map. It wasn't occupied and was on the way to where our plan lied, so why not start earning some points right then and there?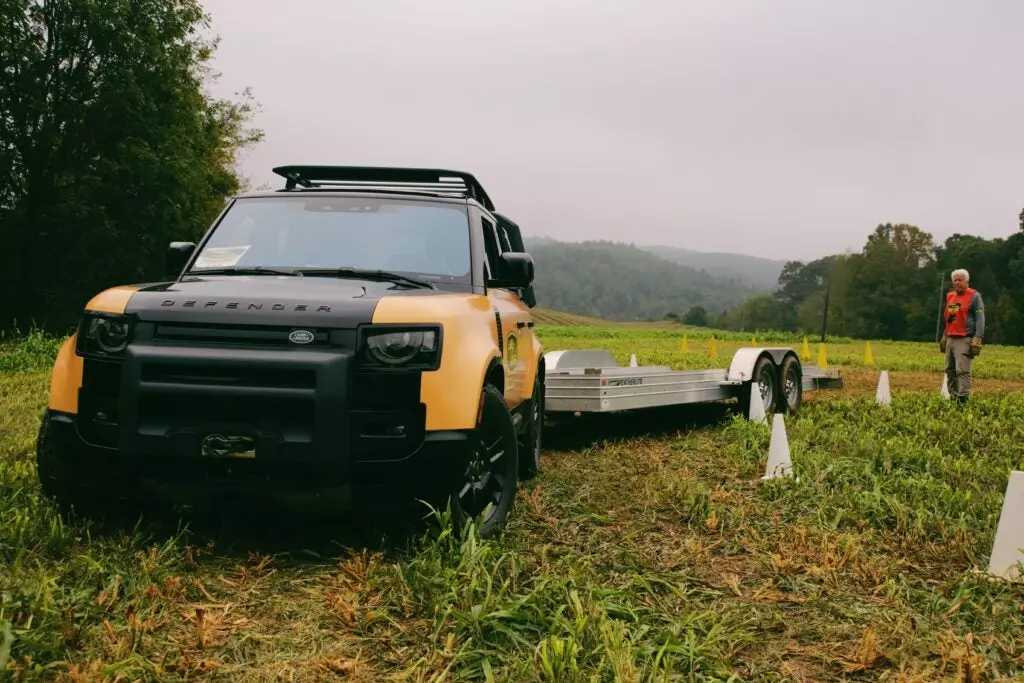 The concept to this station is fairly simple: Hitch up the trailer to the Defender 110, and then carefully maneuver through a tight path outlined by the cones, including backing it into two tight spaces. The trailer was quite long, and as I've got experience backing enclosed car trailers into tight garage spaces, I opted to drive. Plus, I'm absolutely terrible at giving instructions to people who are behind the wheel — never ask me to spot you on a trail filled with massive rocks. On the other hand, as I quickly found out, my teammate Jeff is absolutely excellent at relaying spotting instructions.
It took a minute to sand the oxidation off of my ability to receive "right hand down, left hand down" instructions, but after peering over the 110s big spare tire out the rear window and letting my instincts take over, I actually ended up doing pretty well. I also found out that changing the Defender 110's Terrain Response 2 suite of driving modes to Normal helped immensely; I could be more precise with the throttle as opposed to the Dirt/Mud mode it was in, which made throttle response sluggish and better for very-low-grip scenarios. Sluggishness wasn't required, but rather precision. Normal mode made maneuvering through the very tight course so much easier. We passed the challenge without much issue, and then made our way onto the next.
Getting Into the Competition Groove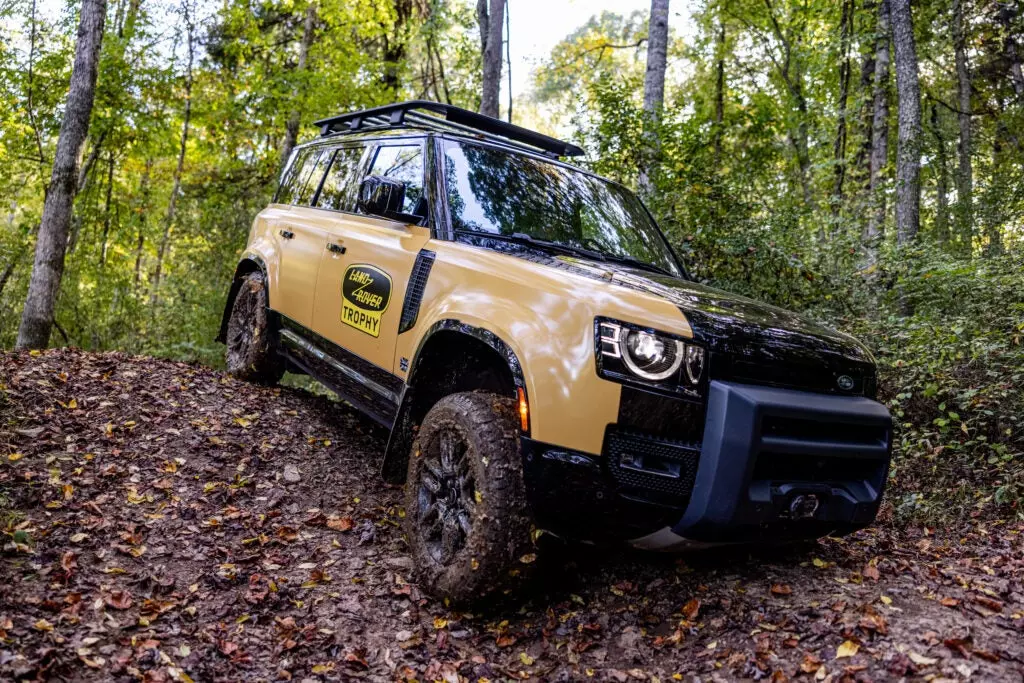 Up next on the docket was Rat Trap, facilitated by Land Rover Experience Center instructor Rob Austin. The idea was to pull the Defender 110 into a very tight octagon outlined by pool noodles, and carefully turn it around and drive out. Drive forward a tad with the wheel turned, then with the wheel turned the opposite way, in the opposite direction, and repeat. It was absolutely not my idea of fun. This was the driving equivalent of death by a thousand paper cuts, and unfortunately, we ran out of time before we could complete it. However, we did earn a few points for taking part, so we had that going for us.
Up next, we made our way toward the western side of the grounds and happened upon an activity I had heard about from the Land Rover TReK Off-Road Competition. It involved assembling a bridge and solving a puzzle by piecing together the Land Rover logo, all in one. I knew Jeff and I would be good at this, as we kicked ass at communication, so we jumped at the opportunity. Sure enough, we did a good job arranging the long, differently shaped, heavy planks of wood in the right sequence. Though, we struggled a touch with getting the spray-painted Land Rover logo just right. After about 10 minutes, a light bulb flickered on in our brains, and we quickly remedied our Neolithic Era graphic design.
From there, we headed due north to a gaggle of activity stations that weren't terribly far from the finish line. This was crucial, as the clock was approaching 1:30 p.m. and we wanted to make sure we had ample time to complete at least one task, and then have enough time to navigate to the finish line in case we got lost. Or rather, in case I was too tired to properly read a simple handheld GPS, depends on how you look at it.
Then The Pain Set In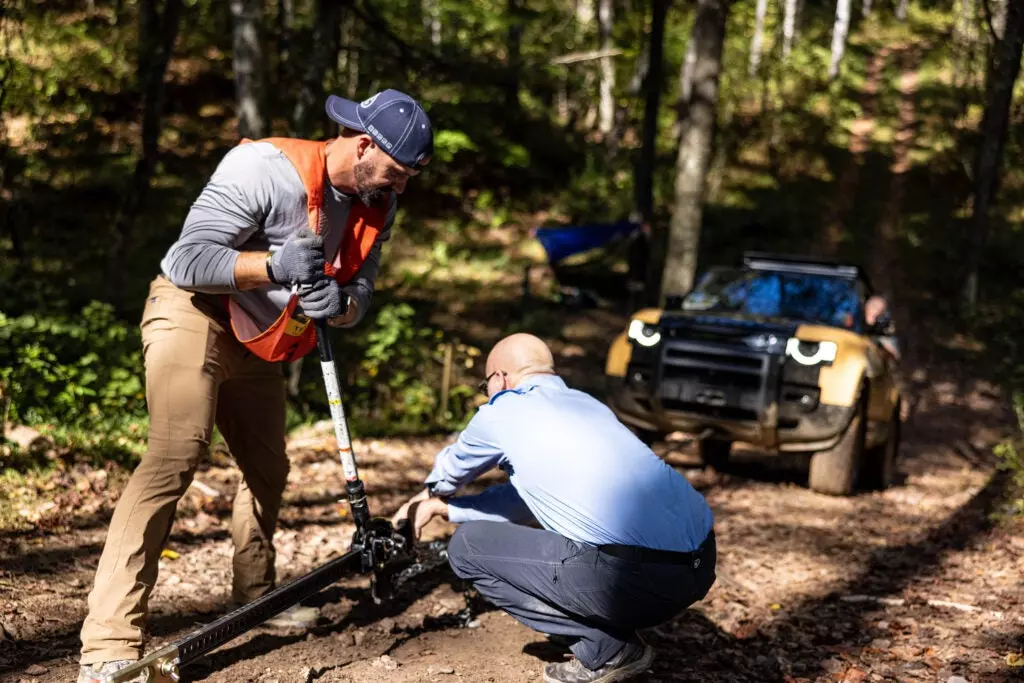 After traversing through deeply forested trails up and down some surprisingly muddy and menacing little climbs, we happened upon One Car Length hosted by Land Rover Experience Center instructor and former Camel Trophy competitor Jim Swett. This activity's concept was quite simple: Winch our Land Rover Defender 110 exactly one car length up a small incline. Normally, this would be pretty simple to achieve with a common electric winch, but that wasn't in the cards for us.
Instead, we had to do it the old fashion way with some chains, elbow grease, and a manually-operated Hi-Lift off-road jack. For the uninitiated, the Hi-Lift is an infamous off-road tool. It looks like a cross between a can opener and a pipe wrench, is typically made of iron, and is designed to lift up everything from jeeps to farming implements. Because the Hi-Lift commonly comes in a 48-inch length, it's effective at not only getting lifted off-roaders off the ground, but also serving as a way to winch them out of places. The kicker is that his wonderful hunk of iron moves the vehicle incredibly slowly and requires a lot of strength if you want to move a 2.5-ton Defender 110 exactly one car length in less than an hour.
Luckily, because Swett was more like a drill instructor than most people who aren't active-duty military personnel, we completed this feat of strength fairly quickly. It also helped that he had a good sense of humor and lent a hand to make sure we didn't lose any fingers. I still lost around two gallons of perspiration in the process and didn't shake the soreness from my arms until a solid week later.
Making Our Way Back, And Reflecting On the Day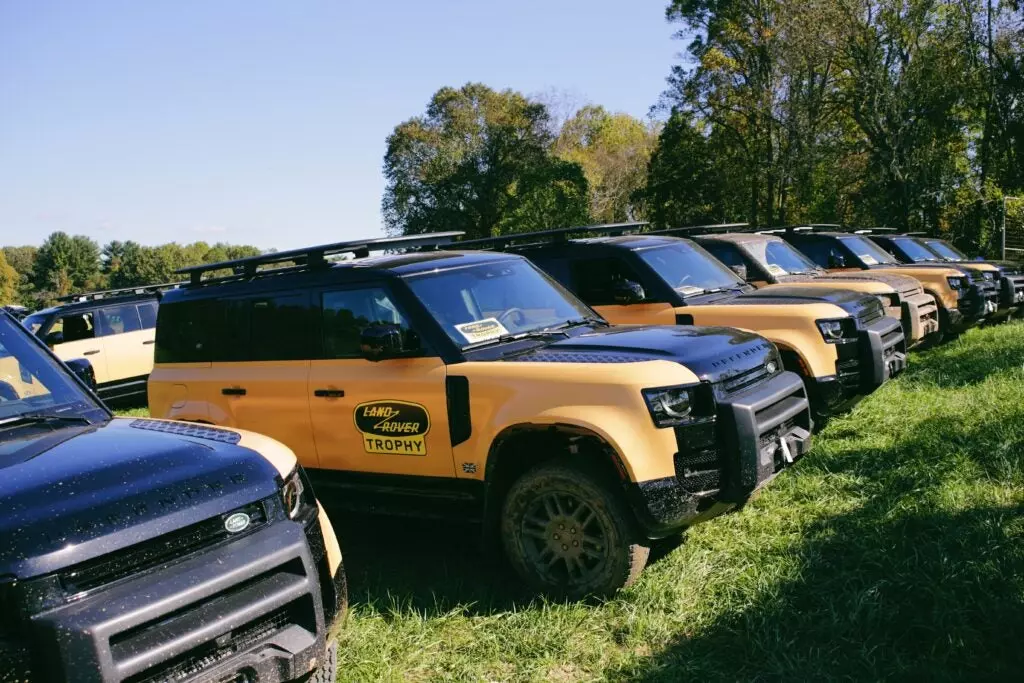 After successfully hoisting our 197.6-inch behemoth up the hill, we decided to head back to the finish line with about 30 minutes before the clock struck 3 p.m. It's a good job that we did. The day suddenly caught up with me, the adrenaline wore off fast, and I suddenly became tremendously tired. I proved to be a terrible navigator at this crucial moment, but luckily Jeff made up for it with his top-notch off-roading skills. No boggy, mud-filled gully or tricky, hole-filled hill slowed us down. Sure enough, we found the right path and crossed the finish line at 3 PM sharp, barely avoiding a time penalty.
It's good we did, as we narrowly filled in the bottom spot on the journalist podium. Sure, third place out of four journalist teams isn't exactly stacked competition, but hey, hardware is hardware, and we were in possession of a sleek new trophy later that night.
The real reward was immediately after we crossed the finish line, when I cracked open a couple cold cans of locally brewed IPA. I had to restore those burned-up carbs somehow.
A Fun, Well-Run Event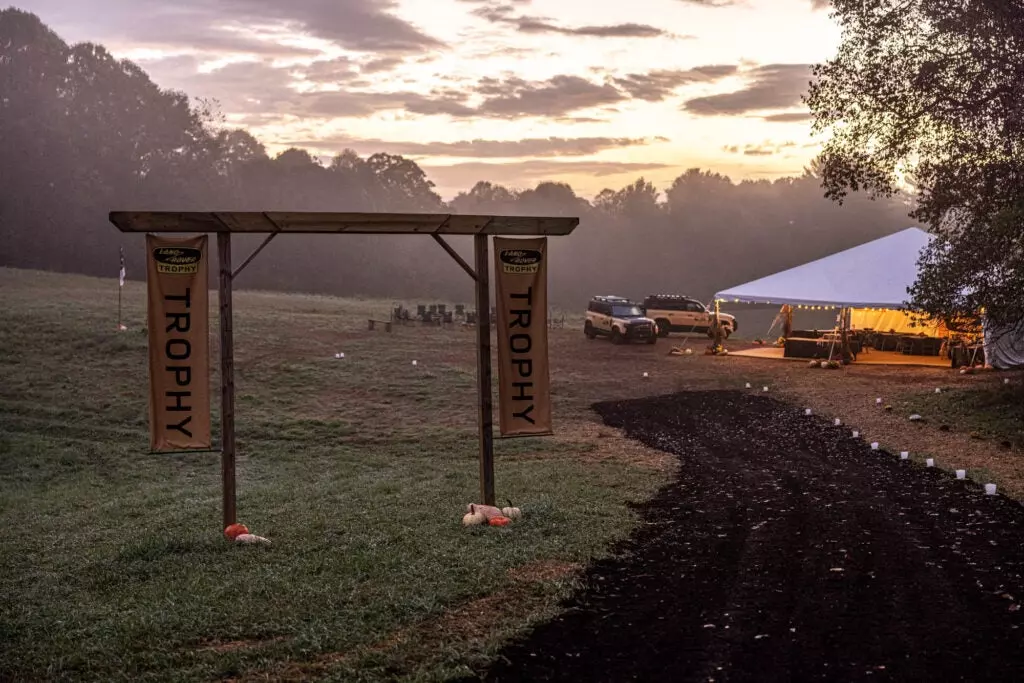 The 2021 Land Rover Trophy was an epic experience, and it was truly brilliant to be teamed up with Jeff. We shared many hearty laughs and instantly got along really well as teammates. Not only did we get to do some fun off-road driving in a top-spec 2022 Land Rover Defender 110, but it was just a tremendous amount of fun doing some challenging activities that were geared toward testing and/or improving one's resourcefulness and skill. The stations were very well-run, the facilitators and instructors were super nice and great to chat with, and Land Rover's passion for all things off-road adventure was on full display.
Word on the street is that Land Rover is considering making the Land Rover Trophy a permanent fixture of its Land Rover Experience programming, and I think that's an excellent idea. Brands cashing in on heritage can be awfully hit-or-miss in this day and age. But I think when done with a practice-what-you-preach angle, such as offering a fun-filled day of off-road driving challenges in the vein of the Camel Trophy back in the '80s and '90s, it could indeed be a hit. Especially for adventurous adults who appreciate any opportunity to spend a day outside, far from any form of computer screen.
What's more, the overall, non-press winning team of the competition has the chance to use their skills internationally. Of the 90 teams that competed during the week I was there, just one will take part in what Land Rover's calling "an extreme adventure competition" at Eastnor Castle in the United Kingdom, which the brand affectionately refers to as the spiritual home of Land Rover testing and development. This event is tentatively scheduled for early 2022.