It doesn't really matter what type of vehicle Ken Block is driving, what the brand is, or how it makes its power, the goal will always be the same: Drive at 11/10ths and get those tires smokin'. For roughly a decade, Block has been a Ford partner and built an empire off of drifting cars from the Blue Oval, but 2021 represents a new beginning for the veteran racer. He's with Audi now, and that means he has an all-new customized Audi car to drive. It's called the Audi S1 e-tron quattro Hoonitron.
Car: Audi S1 e-tron quattro Hoonitron Concept
Location: Some fancy studio
Photog: The one Audi hired
Camera: Probably one I couldn't afford
As we saw with the classic Ford Mustang-based Hoonicorn, Block likes taking something old and making it new again. The approach and concept was a little different on this project, as the vehicle is based on the new all-electric Audi e-tron, but it's inspired by the Audi Sport quattro S1 that earned its fame in the '80s. According to Audi, the design process from first sketch to final design typically takes one-and-a-half years, but this was accomplished in four weeks.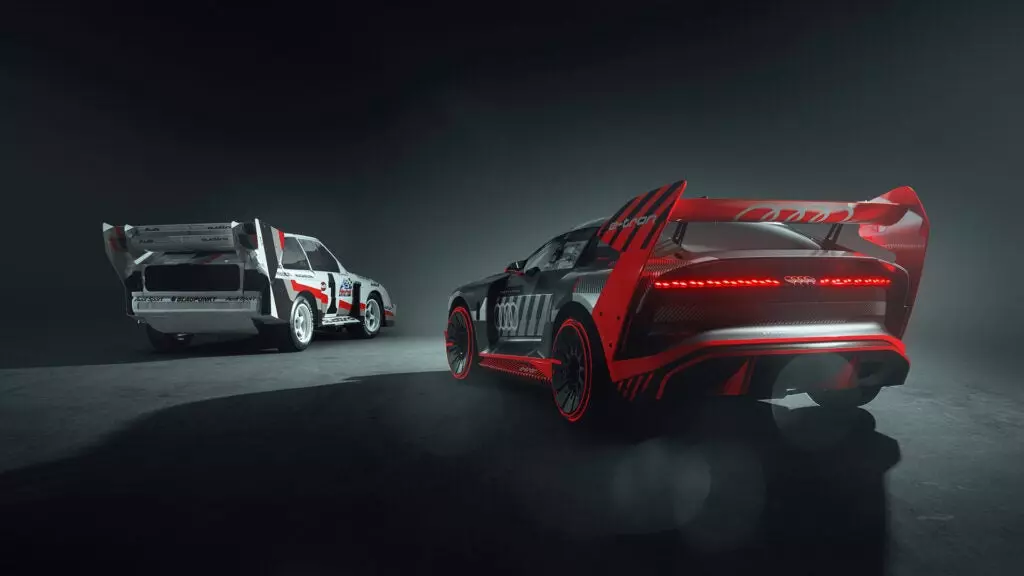 With the two cars positioned next to each other, the design similarities are obvious, but the cars are vastly different. The Hoonitron uses two electric motors, and Block said it was an adjustment learning the difference in power delivery and handling characteristics between gas cars and EVs. He did have some practice in the Ford Mach-E, though, so we imagine he figured things out pretty quickly.
To see more of the Hoonitron, check out Block's unveiling video, and look for a new Gymkhana called Elektrikhana coming soon.
What to read next: