Our favorite node-based driving (crashing) simulator BeamNG Drive just dropped us an update, a little Christmas weekend present to players. Look under the digital tree: The latest Beam NG update has gifted us a Hellcat. Well, not technically, since there are no licensed models in the base game. But, c'mon, this thing's definitely a Hellcat, no?
BeamNG isn't purely a racing game, it's a dynamic virtual automotive playground. Its main point of coolness is its soft-body physics that make crashing particularly fun. But while its driving dynamics can seem real, its brands are not so it's got a lot of fake automakers that are obvious knockoffs-of and nods-to real cars (kind of like the car brands you see in like Grand Theft Auto).
Badged as the "Bruckell Bastion", this lore-friendly rear-wheel-drive sports sedan muscle car was released in BeamNG's v.0.24.1 update. Previewed in September, BeamNG showed a blacked-out teaser silhouette of a new vehicle. Some speculated what it could be, but the Guns n' Roses lyrics were a dead giveaway — it was to be something American. In fact, I think I still have one of the topmost comments on its Facebook post.


The Bastion doesn't quite look exactly like a Dodge Charger, or any other Stellantis LX platform car, but how many rear-drive brand new sedans are there with close to 1,000 horsepower on tap? Thought so. The chunky fender flares, faux racetrack rear lights, and police livery options point to the Bastion being a lore-friendly Dodge Charger. I played the update for a few minutes, the Bastion feels big, fast, yet deceptively good handling in the twisties. So yeah, it's a Dodge Charger.


BeamNG's been overhauling most of its vehicles lately. In the v.0.24.1 update, the mid-engined DeTomaso/Ferrari hybrid inspired, Civetta Bolide, got a through remaster. Now it looks, drives, and crashes way better than the old model. Just last month, we were given more maps, more cars, and more stuff, making the already impressively fun racing sim, even better.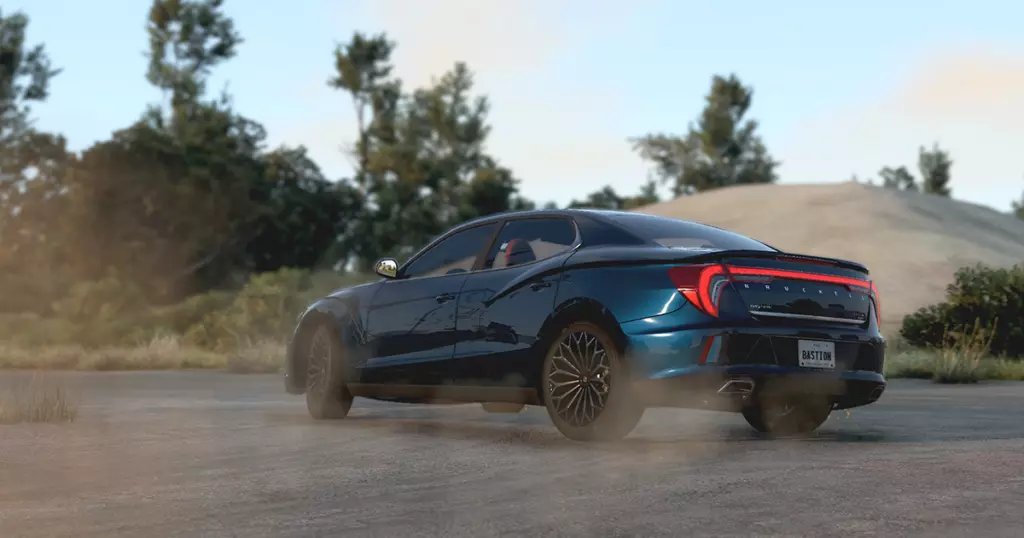 Hopefully, Beam NG will hear my call and remaster, insert, and upgrade the old Rigs of Rods vehicles into the game. Sure, the Bruckell Bastion is cool, but how much cooler would it be to see the Gavril G2S or Gavril Burnside? Unfortunately, that'll likely remain a dream, since I've read the original creator of those mods (and the lead creator of all the Beam NG cars) hates those old models. Oh well. Anyways, can't wait to get to crashing this fake Hellcat.
What to read next: