It seems like we're currently living through the sunset years of certain types of cars. With EVs becoming more and more common, crossover sales still going strong, and trucks still elbows out in the market, a quick glimpse at sales trends might suggest there isn't enough room for smaller, front-wheel-drive enthusiast offerings for the long term.
Thankfully, we still have the Honda Civic Si and the Volkswagen GTI, plus a couple of others. But increasingly, they fight alone, and you're far more likely to read news of some sport compact getting killed off instead of producing a new model.
One sign of life, however, came out of left field a few years ago and has wowed pretty much everyone ever since: Hyundai's N division. Released in 2019, the Veloster N is sheer hot hatch brilliance, as I've babbled about before. But it gets better: for 2022 they've released a slightly more crowd-pleasing N sibling to this little light blue beast, and it's called the Elantra N.
Its higher percentage of everyone-friendliness over the Veloster N is marked by a few crucial factors, such as its shape and ride—instead of a hatchback with a slightly cramped backseat, it's a roomy four-door sedan. Its N Division bloodline is the most prominent in the way it carves corners and puts a grin on your face with its rowdy turbocharged four-cylinder. The Elantra N does the fun, front-wheel drive tuner car lineage proud, and adds some neat technologically advanced twists to stay relevant in today's market.
So while the market is smaller, the offerings are better than they've ever been. And the Elantra N is perfect proof of that.
One Size Fits All Dimensions
When this current CN7-generation Elantra debuted in 2020, its design was contentious. A far cry from the anonymous blobs of yesteryear that practically screamed "I'm just here for the cheap gas," the new Elantra is angular, aggressive and confident. It doesn't ape the Corolla or the Civic or anything else. And while it's out there, I think it looks great. This styling also suits the Elantra's size and shape, which is very commodious inside. It looks smaller than it actually is.
An Elantra N is significantly roomier than the Veloster N. Its four-door shape lets in more light, and the longer wheelbase and full-size trunk allow all passengers to stretch their legs. In fact, the nicely bolstered N sport seats up front push further back than my long-legged, tall self would ever need. Headroom is also very good, which is a relief, as when these seats first debuted in the 2021 Veloster N they stole a little bit of its headroom. But for the Elantra N, they seem to sit lower than lower-level Elantra seats, which I got a feel for last summer in the lesser 2021 Hyundai Elantra N-Line.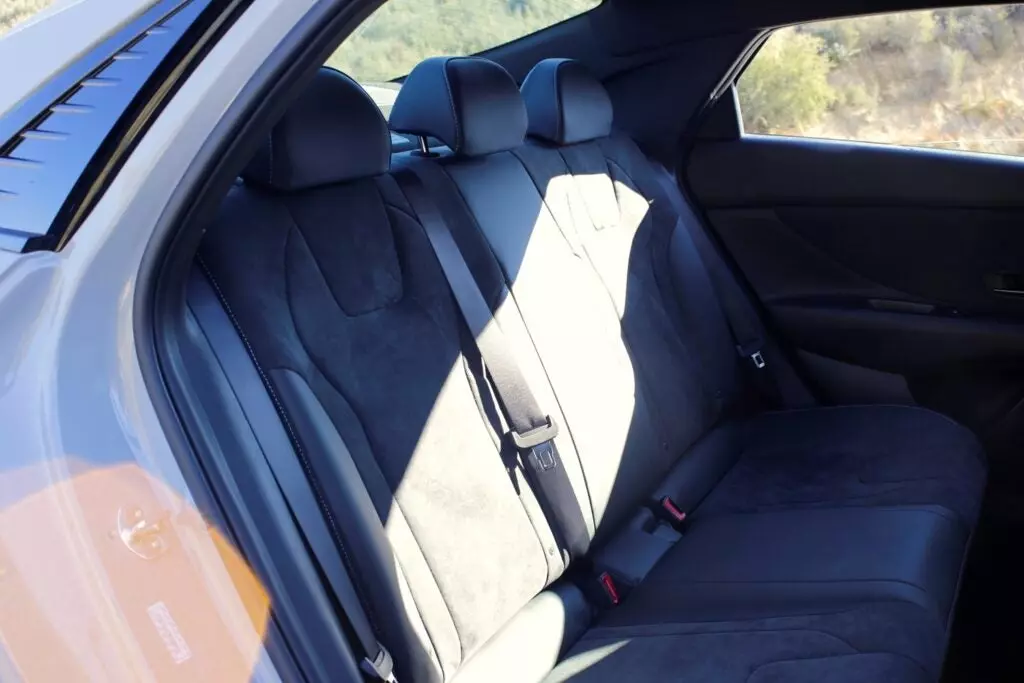 Rest assured, there's empirical proof to all of these anecdotal reflections. Headroom comes in at 39.9 inches in the Elantra N, which is almost 2 inches more than its Veloster counterpart. There's also half an inch more shoulder room, though the front legroom is pretty evenly matched.
However, when it comes to the Elantra N truly fitting all, the biggest difference lies in the backseat passenger room. The Elantra sports nearly 1.5 more inches of headroom in the back, 1.3 inches more shoulder room, and four whole inches of more legroom. Commodious indeed.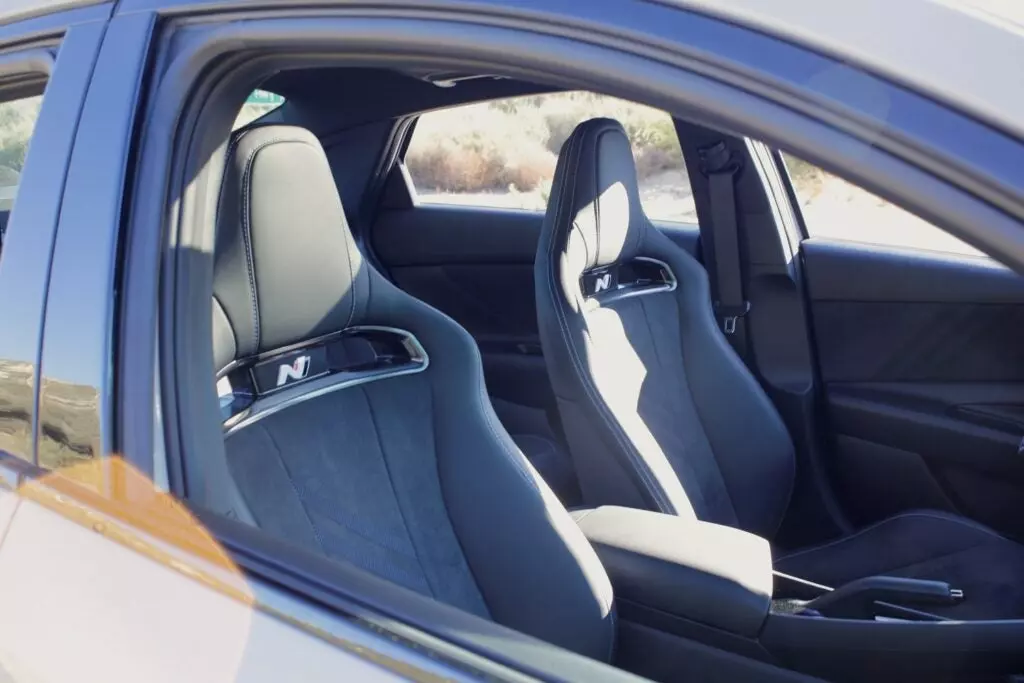 Despite being over six feet tall myself (six foot three, if you're curious), I can sit behind myself in the driver's side backseat, which is a rarity in this day and age. This bodes incredibly well as a one-car solution and daily friendliness, as more shapes, sizes, and ages of humans can sit comfortably in the back. Whether you're hauling kids, elderly family members, whoever. Rip on the track on Sunday, take the kids to school comfortably and safely on Monday.
Or, if you're a rideshare driver and select the Elantra N as your money-making chariot, you're truly doing the Lord's work utilizing this fun and comfortable N chassis.
Fun Longitudinal and Lateral G Performance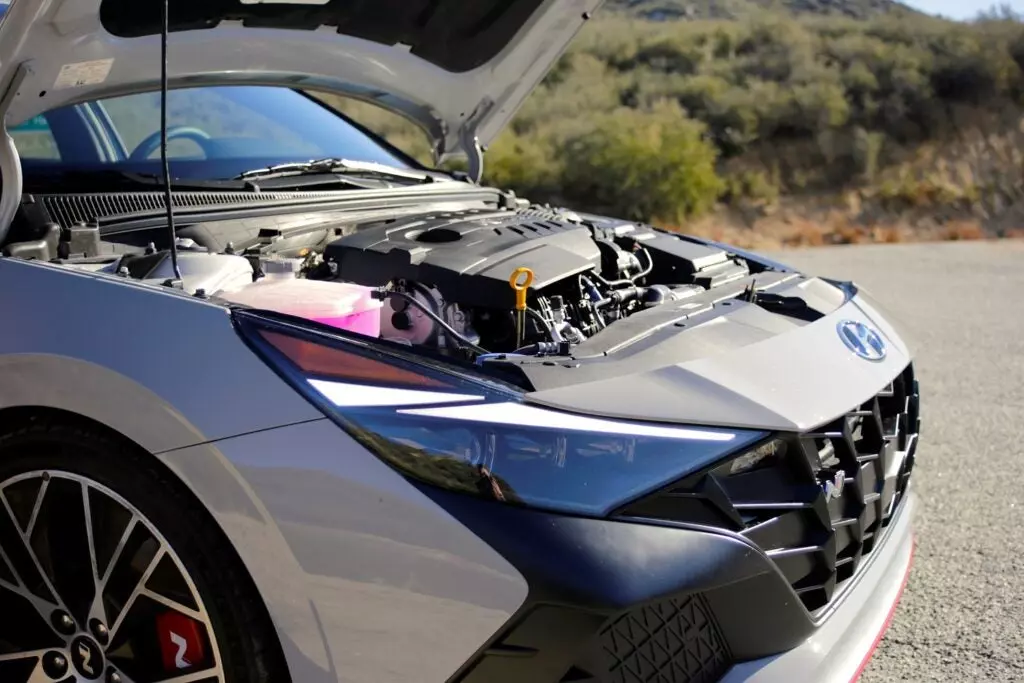 The Elantra N features the same twin-scroll turbocharged 2.0-liter inline-four as the Veloster N. This angry little power plant produces 276 horsepower and a maximum of 289 pound-feet of torque, just one more horsepower than the Veloster.
When both are equipped with the DCT automatic transmission, they each have a button on the steering label marked NGS, or "N Grin Shift"; this is an overboost function that temporarily bumps torque from 260 to the wilder 289 pound-feet figure.
My DCT-equipped tester's 3,296-pound curb weight is around 90 pounds more than a six-speed manual-equipped (6MT) model, and 50 pounds more than the Veloster N DCT. The lightest of all variations is the Veloster N 6-speed manual at 3,106 pounds. With a full commitment to the right pedal, the Elantra N DCT will see 60 MPH from a stop in just 5.0 seconds.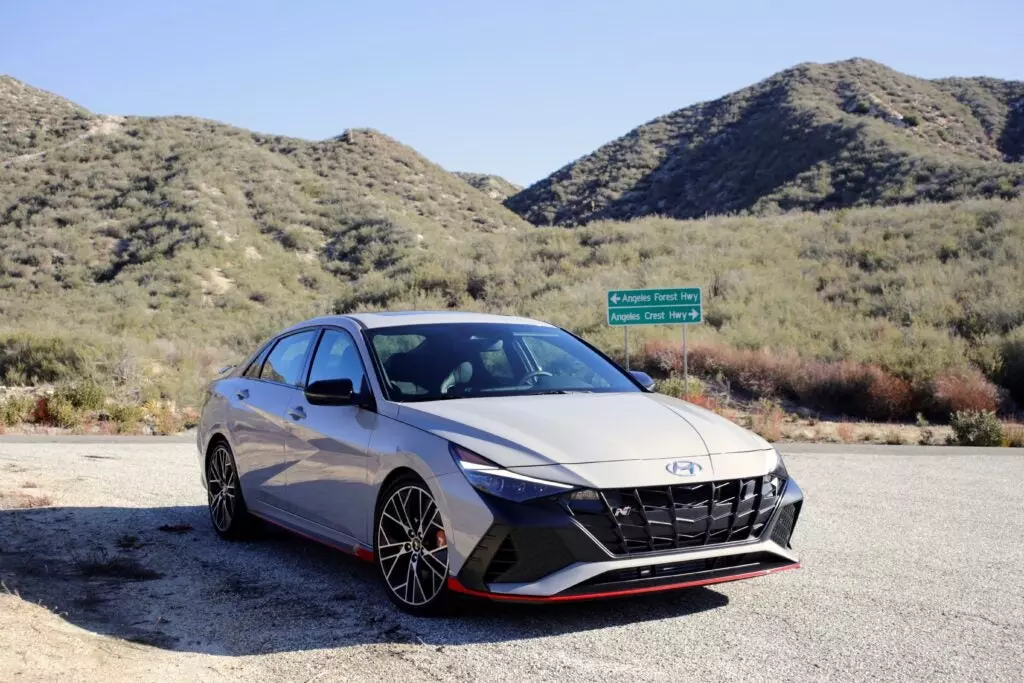 The Elantra N DCT's power is fun, but it doesn't feel as aggressive and lively as the Veloster, 6MT or DCT—NGS on or not. (Pardon the alphabet soup there, I didn't name the car.) Even though its front wheels are only pulling along 50 more pounds. Where the Veloster feels raucous and rowdy in the way the power comes on, the Elantra feels more refined and linear. This isn't necessarily a complaint, but I was hoping these wild n' fun characteristics would transfer over, spreading the love for as many as four comfortably belted-in passengers. The Veloster's more untamed-feeling torque curve must've been designated as hot hatch-only material, whereas the Elantra is indeed the more chill, all-driving-scenarios-friendly choice.
Make no mistake that the Elantra N matches its hot-hatch sibling by offering the same excellent steering and handling. Turn-in is confident, body roll is minimal, and steering is sharp and nicely weighted. It's nothing but smile-inducing fun to push in the corners on a fun road, and when its chassis and front tires start to become a tad overwhelmed, it's easy to extinguish understeer with a little lift of the throttle.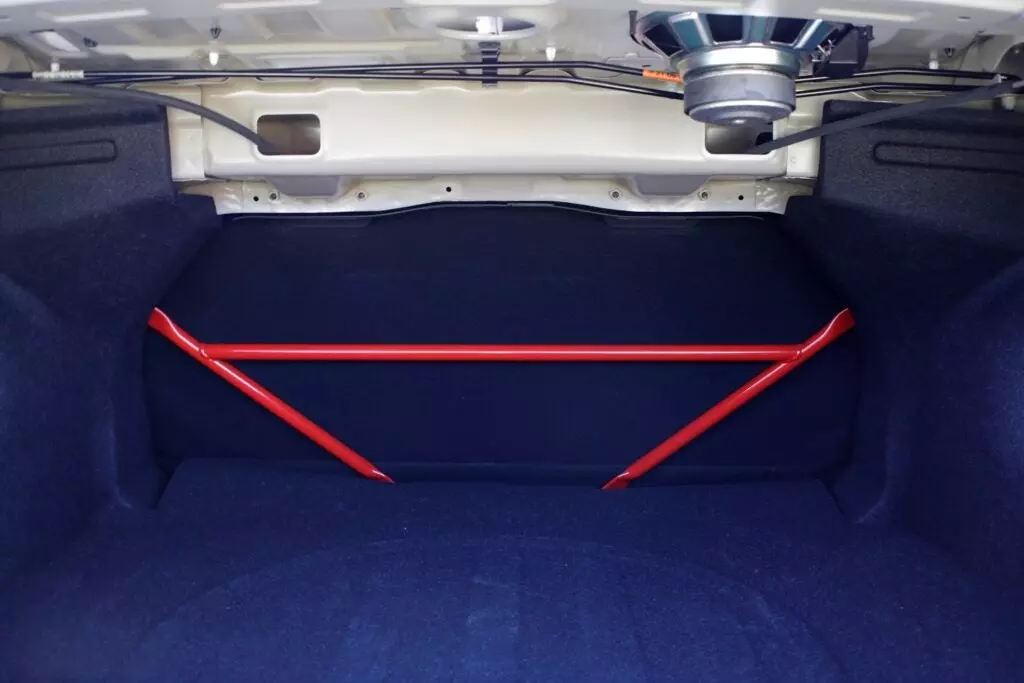 The Elantra definitely edges the Veloster in ride quality, despite wearing the same N Electronically Controlled Suspension active dampers. This could be attributed to having three more inches in its wheelbase, but I actually think it's more due to the contact patch. The Elantra sports 245/35/19s at all four corners, whereas the Veloster has 235/35/19s mounted up -10mm might not sound like that big of a difference, but visually it certainly is, and assuming their wheels are the same width, that extra measurement of rubber is all the Elantra would need to ride more comfortably in its stiffest, TCR-car-resembling N Mode.
While trying to cross-check adaptive damper parts numbers between the two, I couldn't find a part number for the 2022 Elantra N, but different damping could certainly also be the reasoning behind the Elantra's smoother ride.
Fun Tech to Keep Hot Compacts Relevant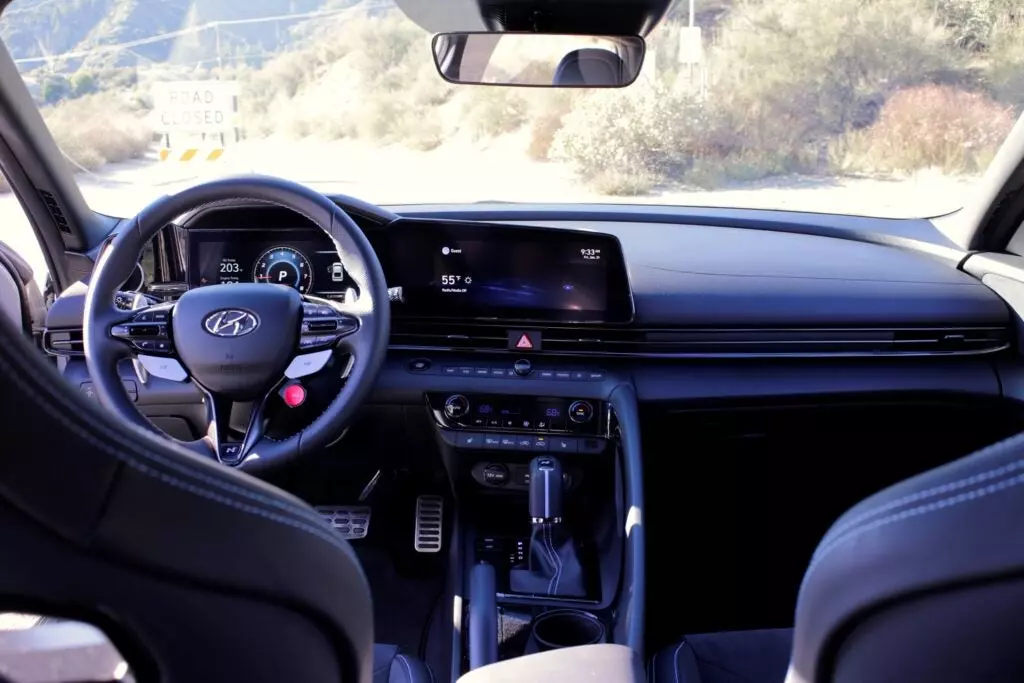 If only engineers from the early 2000s could see what kind of tech is crammed into fun, compact sedans in the year 2022. I mean, 20 years ago, Mazda was thoroughly stoked to highlight the Protege MP3's MP3-reading Kenwood head unit. This Hyundai puts HAL 9000 to shame by comparison.
I'm not exactly a tech connoisseur who needs the latest and greatest connectivity features and massive screens, but I definitely appreciate a smooth, fast-reacting, and easy-to-use interface. And the Elantra N has this in spades. I could've sworn the infotainment system in the '21 Veloster N was a tad laggy, though it might not get the exact same software as this 2022 model year Elantra. It didn't have a handsome digital gauge cluster, either. But the Elantra's system is easy to move through and devoid of lag, and features some neat customizability.
Hyundai's N cars enable motorists to fine-tune and customize engine, rev-matching (for 6MT-equipped cars), e-LSD, exhaust sound, suspension, steering, and ESC settings. These are fun to play around with, though to get the full, unfiltered treatment, N Mode is the way to go. There are also Eco, Normal, and Sport for maximizing customizability. To me, Sport is the ultimate all-around, enthusiastic-yet-nicely-riding mode.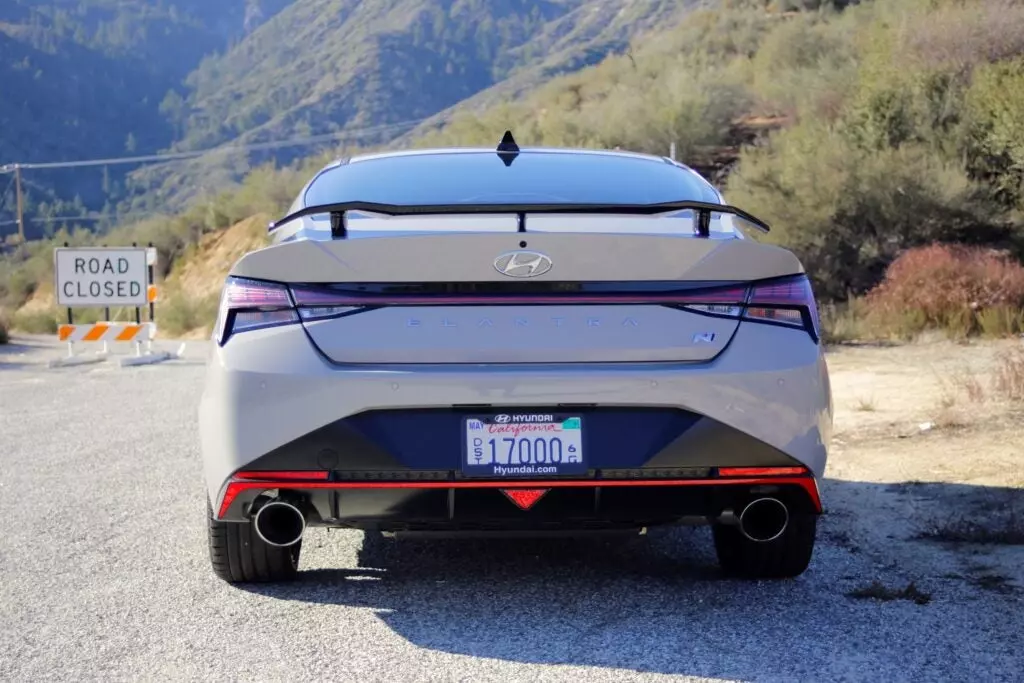 However, customization doesn't end there. Deep within the Elantra N DCT's menus is the ability to enable or disable creeping. No, not the strange and unsavory human kind—I'm talking about the creeping forth that automatic gearboxes do when you let off the brake pedal. I really enjoyed this feature, as high-end equipment such as a new BMW M3 or McLaren 620R don't creep, so I've identified this as a common performance car-only kit -it sounds neat to throw the Elantra N in the same category as these beasts. Though, the DCT does a lot of clutch slipping if you decide against any creepery, which is annoying while doing multi-point turns in tight quarters. It takes its sweet time smoothly shifting from neutral to first or reverse, and then moving. As if its pedals are being balanced by a stick-shift newbie.
Man, how far we've come.
Peak Hot Compact Car Modernity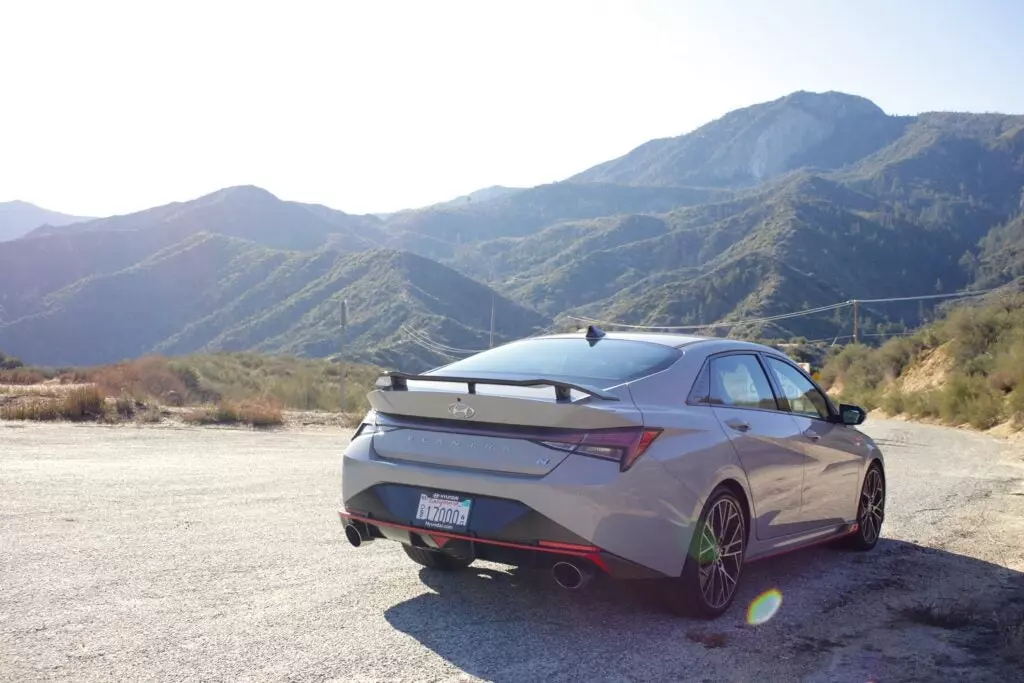 I hate to say it, but we might be experiencing the absolute peak of internal combustion, front-wheel drive enthusiasm from the factory. There's word of one or two more similar-spec'd offerings coming to our shores soon enough, and a new Honda Civic Type R is on its way, but I'm afraid that might be it before EVs take over. Hyundai also has the even-more-everyone-friendly 2022 Kona N, a small hotly tuned crossover with the same turbo motor. What excellent technology we've got for at least a little while longer.
And in this case, it's a strong bargain to boot. To pack three or four passengers into an Elantra N and scare the living daylights out of them on a twisty road in this Cyber Gray example, pricing starts at $31,900, then after adding the DCT for $1,500 and a $1,045 delivery fee, it comes to a total of $34,445.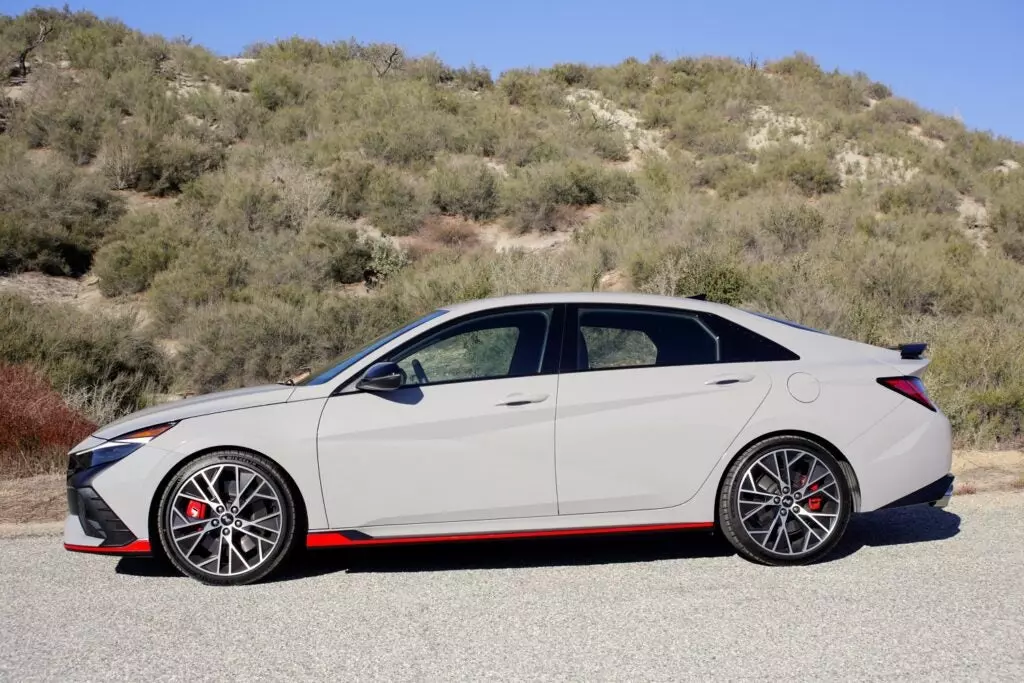 The Hyundai Elantra N costs less than $35,000 but jumps to 60 MPH in just five seconds. It also carries four passengers in serene, well-appointed-for-its-price comfort. It's incredibly fun to play with on a twisty road, too, and its gearbox enables anyone to play pretend-TCR race car driver. I sure did for a rousing afternoon. If only engineers who were designing fast VWs, Hondas, Mazdas, and Chevys back in the day could see what we've got now.
Hats off to Hyundai for making the Elantra N, even if the death of the base Veloster makes me worry for the future of the Veloster N too. My suspicion is based on Bryan Herta Autosport, Hyundai's factory racing team in the IMSA Michelin Pilot Challenge TCR, solely running the Elantra N this season. Regardless, both do their sport compact forefathers proud.
What to read next: