After years of canceled car events, the 2021 LA Auto Show was a breath of fresh air — albeit, taken in behind N95 masks. Now that all the press conferences are over and the show's open to the public, we'll share a quick rundown of the highlights you might want to see in person for yourself.
On New Models
Chris Rosales: The Cayman GT4 RS is the absolute champion of the 2021 LA Auto Show. If you're short on time, go straight to Porsche and oogle the details of the new 911 GT3-powered mid-engined P-car. Just next to it was another exciting new Porsche in the Taycan GTS Sport Turismo, which is the correct way to spec a Taycan. According to Porsche PR rep Calvin Kim, the Sport Turismo body is exclusive to the GTS trim.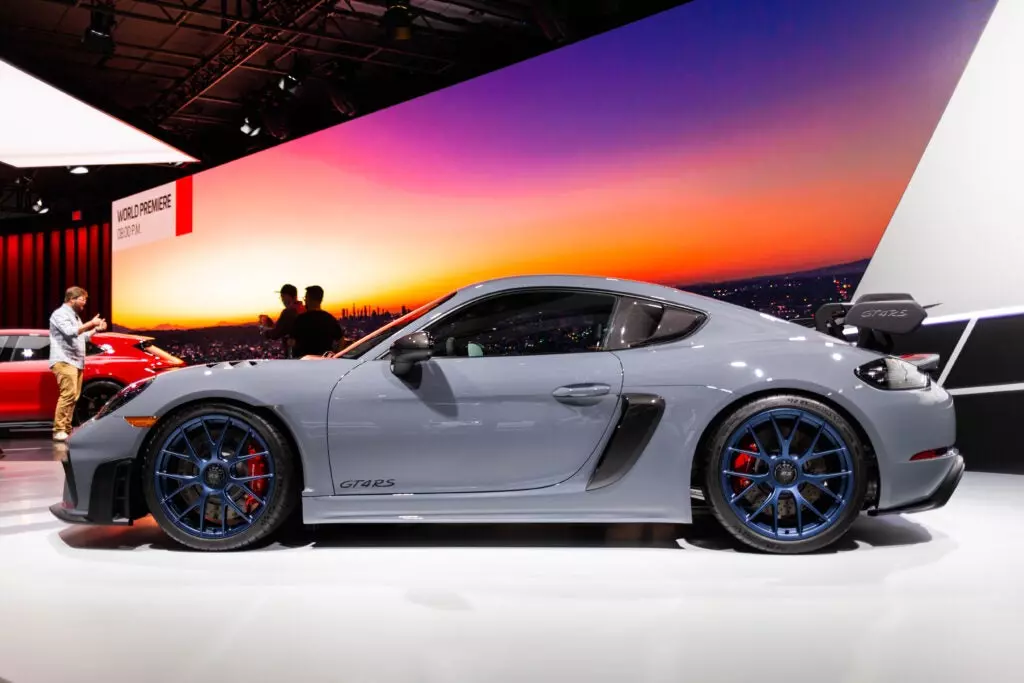 The new 2022 Subaru WRX also made an appearance on the show floor and it looked quite good in person. I never understood the hate for the new body-cladded version of the storied street rally car and seeing it live only cemented my opinion on the new design. It is more exciting to look at than the outgoing generation by a good margin, and the interior is a huge improvement from passable to kinda nice.
Beyond those two models, there was plenty of other good cars to see, including the brand-new Corvette Z06, the new Toyota Tundra, the new Nissan Z, and the Ford Bronco.
Peter Nelson: After seeing the new 2022 Subaru WRX in person, I still don't agree with all the hate it's been getting. I understand the body cladding isn't for everybody and that it now more closely resembles its cladded cousins such as the Outback, but to me, that's just good brand identity. The WRX has always been a four-wheel-drive compact that is at home sliding around in the dirt, so why not give it some cladding?
Elsewhere with the new 'Rex, it has a stupendous driving position and a nicely appointed interior. I have a feeling that this will be a home run for anyone who appreciates a combination of a little elbow room as well as sportiness engineered into their driving position. Hopefully, it has the driving experience to match. We'll report back on that after we test the vehicle out.
On Technology
Chris Rosales: For the tech-focused folks, there were a shocking amount of EVs that rocked up to the show. At least seven new EV models and concepts ended up getting their time in the spotlight, and quite a few more existing models basked under the bright lights of the show.
Most notably, the Subaru Solterra, Toyota bZ4X, Kia EV9, Hyundai Ioniq 7 concept, and Nissan Ariya are worth checking out. The Fisker Ocean also made an appearance across from the Kia booth.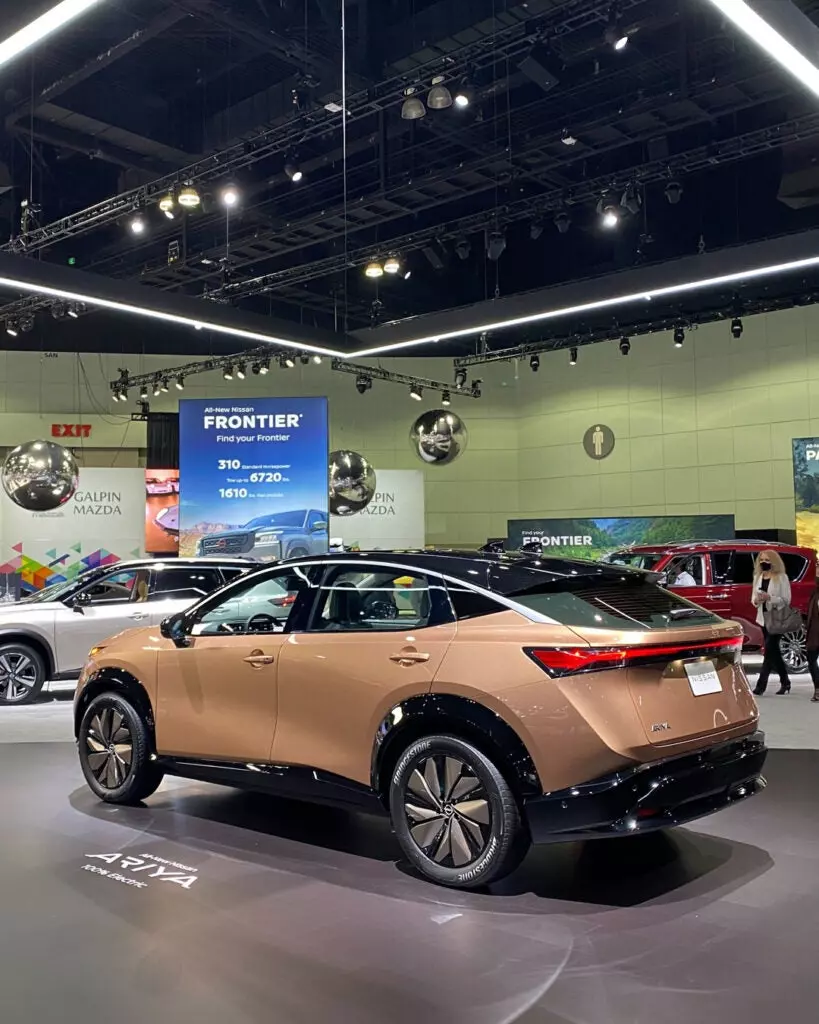 If EVs aren't your thing, head straight to Nissan and check out the VR30DDTT engine and gearbox cutaway in great detail. For more engine goodies, walk over to Chevrolet where they have four or five engine cutaways of the LT1, LT4, the Z06's LT6, and some diesel truck engines that all tickle the brain. 
Peter Nelson: I was stoked to see the Porsche Mission R in the flesh. Even though it was a motorless display piece, it was still quite cool to see its gorgeous lines in person. It featured wild prototype racecar-looking proportions and aero work, absolutely no bodywork covering the rear of the front tires, and what I think is the most fighter-jet-looking cockpit ever engineered into a vehicle with four wheels. I look forward to hearing reviewers' impressions, which should be released sooner than later.
On The Show Itself
Chris Rosales: The 2021 installment of the historic show from the city of angels was strange for me. I've been attending the show since I could walk and talk, thanks to my dedicated and loving parents, and this year was my first time going as a member of the press. It was also the first car show I've done since the beginning of the pandemic.
Though it felt a bit light and downright empty at times, it is worth going for a couple of the better displays and access to new models. It is never a guarantee that most cars will be unlocked, but there is great metal to look at, touch, and sit in. Two particularly interesting displays were Subaru's excellent rendition of the Rainforest Cafe (unintentionally) and Porsche's always stunning setup. It's worth going to see the new WRX, BRZ, and Porsche Cayman GT4 RS alone.
Peter Nelson: Despite the COVID pandemic, chip shortage, and not-so-ideal economy, 2022 is shaping up to be an exciting year for the automotive industry. Hyundai's added the latest-gen Elantra to its N Division, the new Toyota GR86 is inbound to dealers this winter, the new fifth-gen Range Rover has blessed our eyeballs, the new Subaru WRX is set to hit the showroom floor next year, and much more cool stuff is on the way.
While Hyundai put on a heck of a show for enthusiasts, the same can't be said for other brands. I was hoping Toyota and Subaru would have a lot more GR86s and BRZs on display for folks to sit in and get a feel for. However, Subaru had just one automatic-equipped BRZ Limited trim in its midst, and Toyota had just one locked GR86 in Premium trim that was a prototype model, despite the fact that the new GR86 was released a few months back.
It was a bummer that some brands weren't in attendance, such as BMW, Mercedes, Mazda, and Honda (the latter two had some of their lineups on display by the Galpin group of dealerships), but otherwise it's a great show with a lot to look forward to. Plus, there are some very cool electric vehicle concepts to behold, as well as the new Ford F-150 Lightning, which my colleague Chris Rosales and I agree on being one of the most important models they've ever produced.
On Food
Chris Rosales: The convention center food is so bad. Be careful, reader. As of two years ago, normal days usually had some outside food vendors with bacon-wrapped hot dogs and other fare, I am not sure what it will look like in this pandemic era. The cafe in the south hall was expensive and not great. I highly recommend, hell, I implore you to eat before and after the show. You've been warned.
Peter Nelson: The only food I consumed during the show was a delicious vanilla latte in the South Hall, near an EV company Canoo's display. I'm not sure if it'll still be there for the general public, though.
I say heed Rosales' warning and just save your noshing for a trip to Phillipe's in Chinatown, which we did after Thursday's installment of the show.
In Conclusion
If this is your first auto show since the start of the pandemic, I recommend that any and all angelinos go and check it out. Frankly, it's looking more and more like the auto show is dying a slow death, but it is a decent way to kill a few hours on a weekend by looking at some new cars that haven't hit the streets yet. 
Just make sure to eat and drink beforehand. Seriously.
What to read next: