At this point, to call the Audi SQ5 a sport-utility vehicle seems like something of an insult. While SUVs have made great strides in terms of refinement in the last few decades, the name still connotes boxy four-wheel-drive vehicles with the driving dynamics of a drunken elephant. The latest SQ5, however, deserves better than that bias-laden term. It may send power to all four wheels like the Jeeps and Land Cruisers of old, and it may have the ability to clamber over obstacles that would high-center conventional cars, but it drives more like a performance car than any SUV you grew up with.
To prove its new crossover can dance, Audi flew a gaggle of automotive journalists out to the verdant wilds of British Columbia's Vancouver Island (not to be confused with Vancouver the city, which, in this writer's experience, has far fewer sea lions and far more streetwalkers) to put the SQ5 to work on a series of high-speed highways and winding two-lanes. It was a chance not just to see how well this crossover handles the day-to-day grind—but also to prove that it fully deserves that "S" at the front of its model name. 
Here, then, are The Drive's top takeaways from our first drive of the Audi SQ5.
1. The Audi SQ5 doesn't drive like an SUV.
Every version of the new Q5 is built on Audi's MLB Evo platform—the same basic structure as the A4 and A5. Which means not only does the SQ5 share the S4 and S5's 3.0-liter hot-vee turbocharged V6, eight-speed automatic transmisson, and quattro all-wheel-drive—it also shares much of its skeleton with those cars, too. You can probably see where this is going: The SQ5 basically drives like a slightly taller S4. 
Any hint of truck-like handling characteristics that may have possessed past generations of VW Group crossovers has been effectively eradicated; apart from the slight change in balance that comes with sitting up at cute-ute height versus hugging the ground, it drives like any other Audi of similar size and power. Throw it into a turn hot, and it understeers a little, as Audis are wont to do, but it still grips and rips through corners at twice the recommended speed limits with nary a complaint. You'd never realize you were in an SUV if you drove it blindfolded. [The Drive does not recommend driving the Audi SQ5, nor any other vehicle, blindfolded. —Ed.]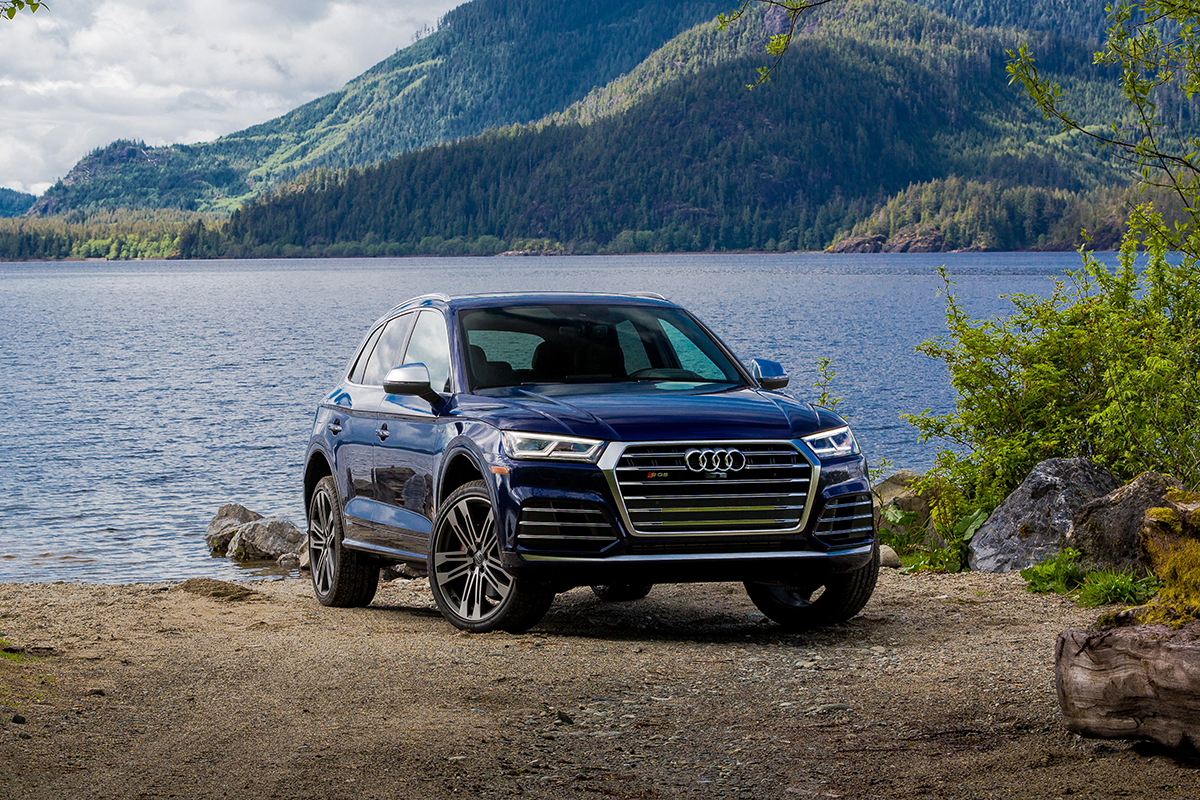 British Columbia: Distractingly pretty. Luckily, the SQ5 ain't hard to look at, either., Audi
2. The Q5 family is big business.
Hop onto Audi's U.S. website, and you'll see 11 different models, ranging from humble fare like the A3 family to six-figure speed machines like the R8. Yet in spite of all this diversity of vehicles, the Q5 family made up just shy of one-quarter of the carmaker's sales in the USA last year—and that was with the outdated previous-generation model. These days, mainstream consumers' preference for crossovers over sedans is manifesting itself most obviously in this size class; according to Audi, 25 percent of all premium vehicles sold nowadays are B-segment SUVs. The Q5 and SQ5 are plowing into the hottest market in America's automotive world; if they're going to succeed, they need to be great.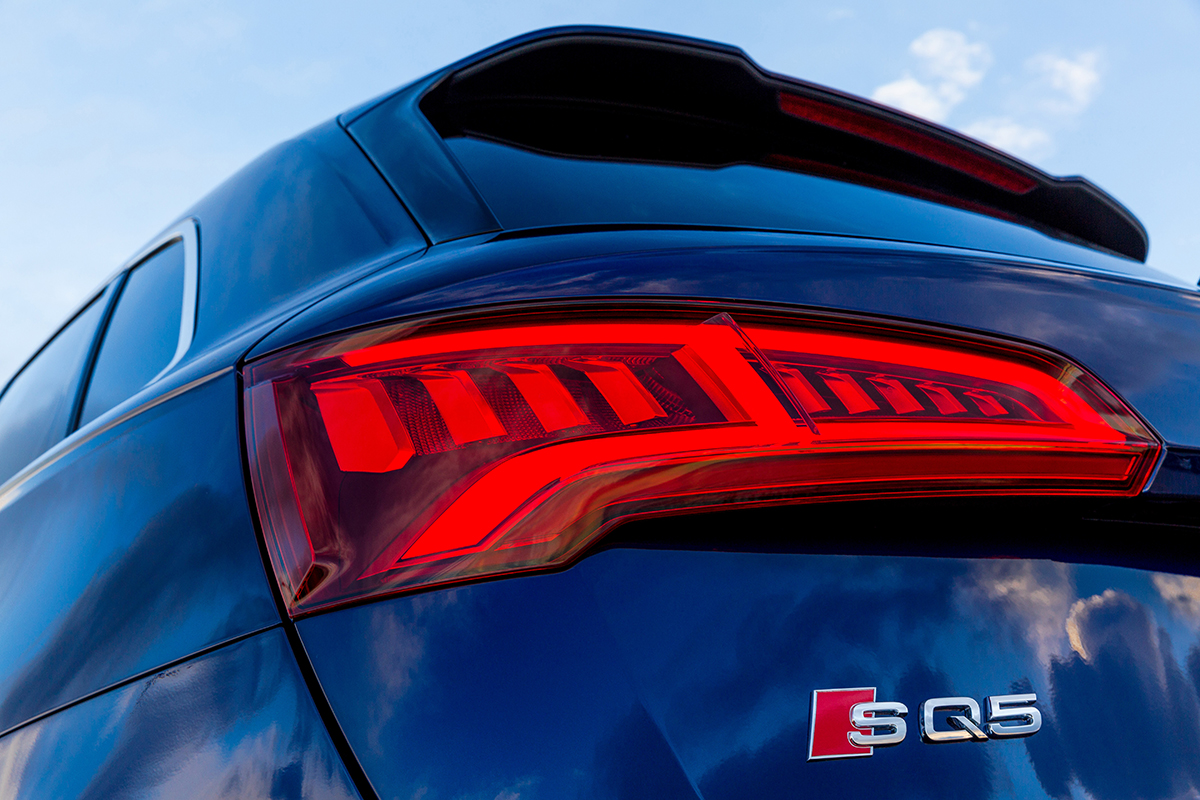 Get used to this rear end. You're gonna see a lot of it. , Audi
3. The SQ5 is the cute ute for dudes—and it shows
Compared to its less-potent sibling, the SQ5 audience tends to skew male. 79 percent of SQ5 buyers have both X and Y chromosomes. As such, it comes bearing a little more attitude than the average B-segment sport-ute. The front end scores a slightly more aggressive face; the back bumper has grown a set of fauxhausts that are as attractive as they are useless; and the wheels start at 20 inches in diameter and grow to 21 with the check of an option box, giving it a particularly macho stance. (That said, the fact that a B-segment vehicle can be ordered from the factory with  21-inch wheels still leaves me a little stunned.)
Otherwise, however, it looks more or less indistinguishable from a Q5...which, in turn, looks almost indistinguishable from the larger Q7, unless you have something next to it for scale.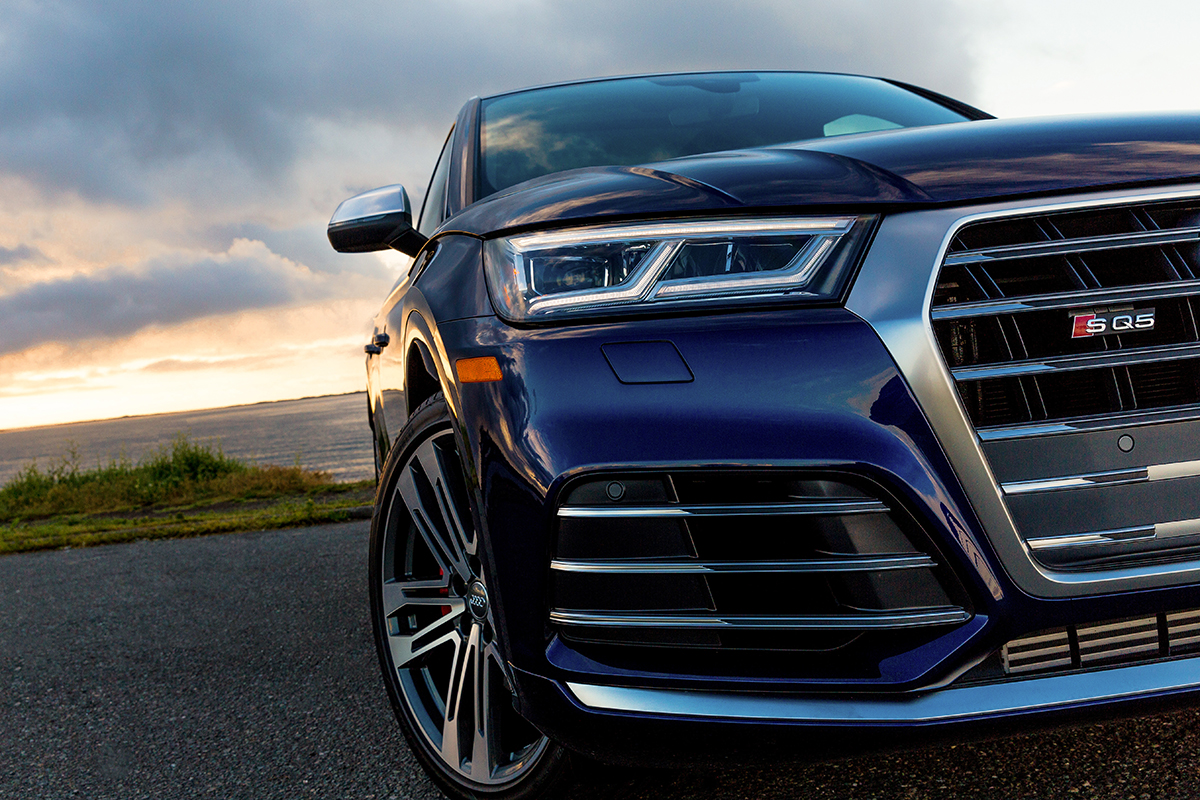 Sup bro. , Audi
4. Like all of Audi's S cars, it's Goldilocks fast 
Much like the relationship between Mercedes-AMG's 43 and 63 models, the SQ5 (and the rest of the S lineup) never blows you away with its acceleration the way the sexier, more powerful RS cars do. Instead, it's "just right" for everyday driving. The turbocharged six pulls more confidently with every thousand RPM, from 1,000 through six grand. The eight-speed automatic excels at knowing when to hold 'em and when to fold 'em; it keeps the engine wound up in the meat of the powerband when hauling ass, but quickly seeks tall gears for highway cruising when you switch over to a more relaxed state of mind. (It occasionally shifts with the mildest of jerks when you step back down from hero to zero, but it's hardly a dealbreaker.)
The end result of all this is one hell of a passing car. Slam on the gas at 40 to zip past slower traffic on a two-lane, and you'll be doing 100 by the time you move back over if you don't pry your foot off the throttle.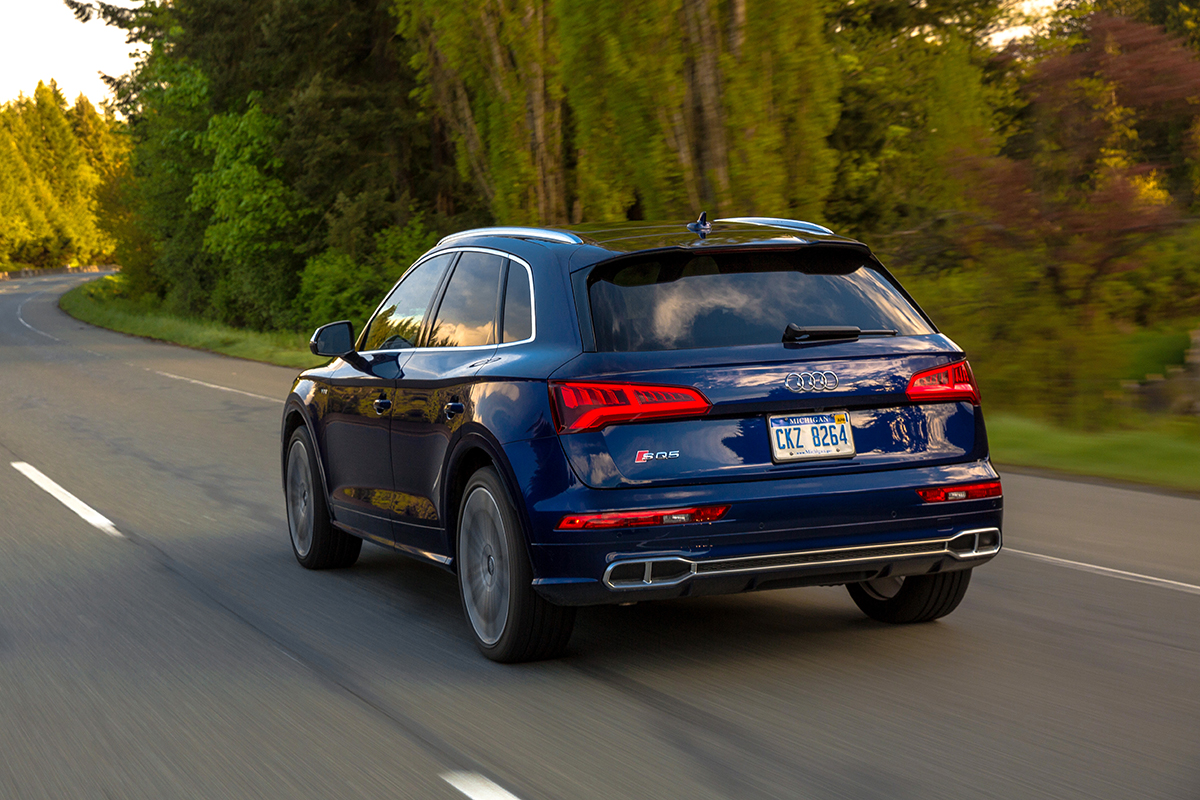 We guarantee this driver is really frustrated by not being able to floor it right now. , Audi
5. It comes with all the tech you'd expect from a new Audi
The clearest proof of this lies dead ahead of the driver in the instrument panel, where SQ5s equipped with navigation have the Virtual Cockpit—an adaptive 12.3-inch display that can toggle between different modes. The SQ5 receives a Sport mode for the instrument panel, which provide a big Ferrari-style "analog" tach front and center with a digital speedo set inside and a pair of secondary info panels flanking it; it may be my favorite of the current batch of all-digital IPs on the new car market. 
The other futuristic tech goodies found across the Audi lineup are all here, too, either as standard features (voice control, Apple CarPlay and Android Auto, automatic braking with pedestrian and vehicle detection) or options (adaptive cruise control with stop-and-go traffic jam assist, lane keep assistance, a 19-speaker, 755-watt Bang & Olufsen stereo). Until the new A8 lands this summer and moves the goalposts when it comes to technology in Audi's cars, the SQ5 is effectively as high-tech as they get.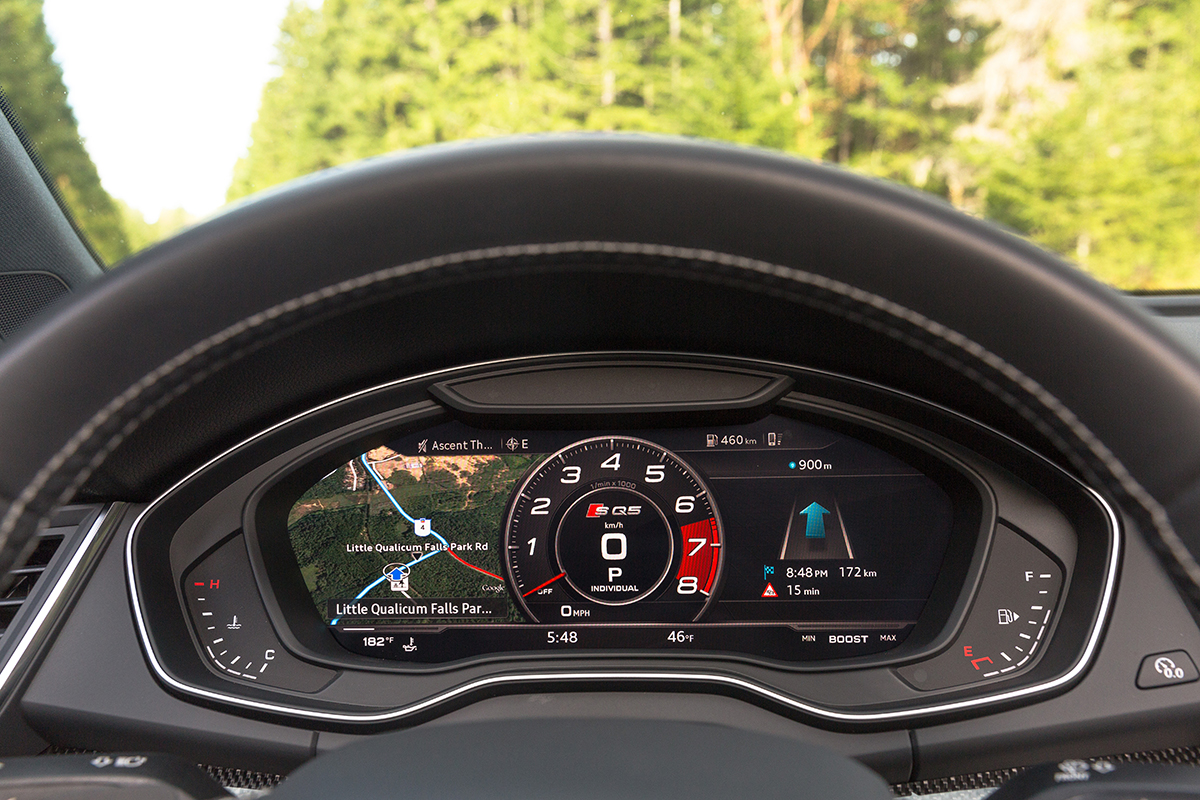 Sport mode for the (instrument panel) win. , Audi
6. The SQ5 still has some semblance of rock-crawler in its genes
No off-roader is likely to confuse this Audi with a Wrangler, but the SQ5 certainly comes equipped with features needed to handle life after the pavement ends. The 369 lb-ft of torque is available in a broad plateau that stretches from 1,370–4,500 rpm, giving it plenty of grunt for the trials of roadless travel. When equipped with the optional active air suspension, the Audi can tiptoe tall enough to give it around nine inches of ground clearance at speeds of up to 20 miles per hour. And hill descent control helps regulate the speed when zipping downwards. 
Sadly, I didn't have a chance to test these theoretical off-road chops in person—Audi only gave us a few hours in the vehicles, which meant nearly every minute needed to be spent hustling down the paved roads—but on paper, at least, the SQ5 seems every bit capable of dealing with far worse conditions than the average buyer is liable to encounter.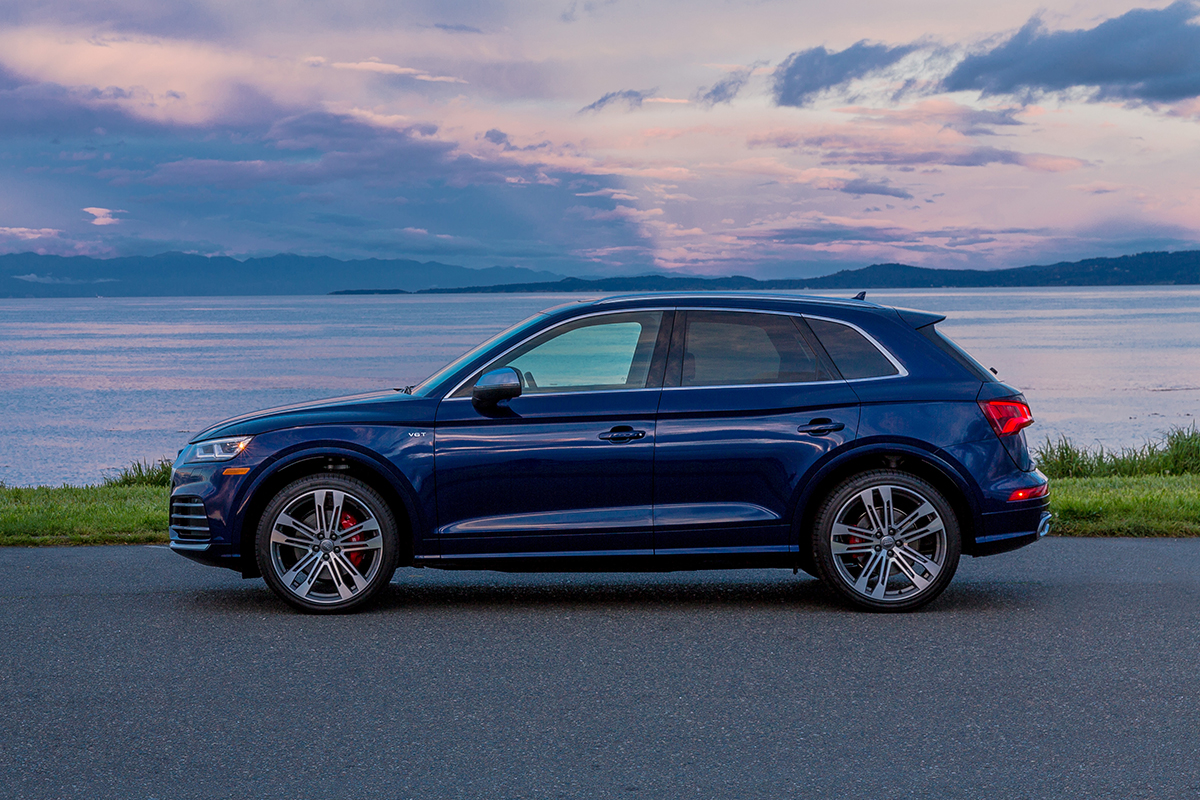 You might notice the ground clearance, if not for the 21-inch wheels throwing the proportions., Audi
7. The SQ5 seems like the next step in Audi's plan to align its vehicles. 
Traditionally, while any given car in a manufacturer's lineup shares plenty of pieces with its brethren, each one has something of its own character. In recent years, however, many carmakers—especially the trendsetting German luxury brands—have seemingly been working to consolidate their lineups into variations on a theme, creating a range of cars that are distinguished by little other than size and shape.  
Audi helped popularize the idea of building luxury vehicles that all look the same; for the last decade, even car nerds have needed to squint to tell the difference between an A4 and an A6 in many cases. (I speak from personal experience.) With its driving dynamics and wealth of technological advancements, however, the SQ5 takes this to the next level. Its Q7 looks and S4 performance mean it further blurs the lines between big and small, car and SUV. 
It seems almost as though Audi (and Mercedes-Benz, and BMW) are moving towards a day when every model will have been stripped of any distinguishing factors within the lineup. Every Audi will look the same, drive the same, and offer the same capabilities; all you'll have to do is choose how big you want it, and how fast you want it to go. 
If every one of them is as good as the SQ5, though...well, that won't be so bad.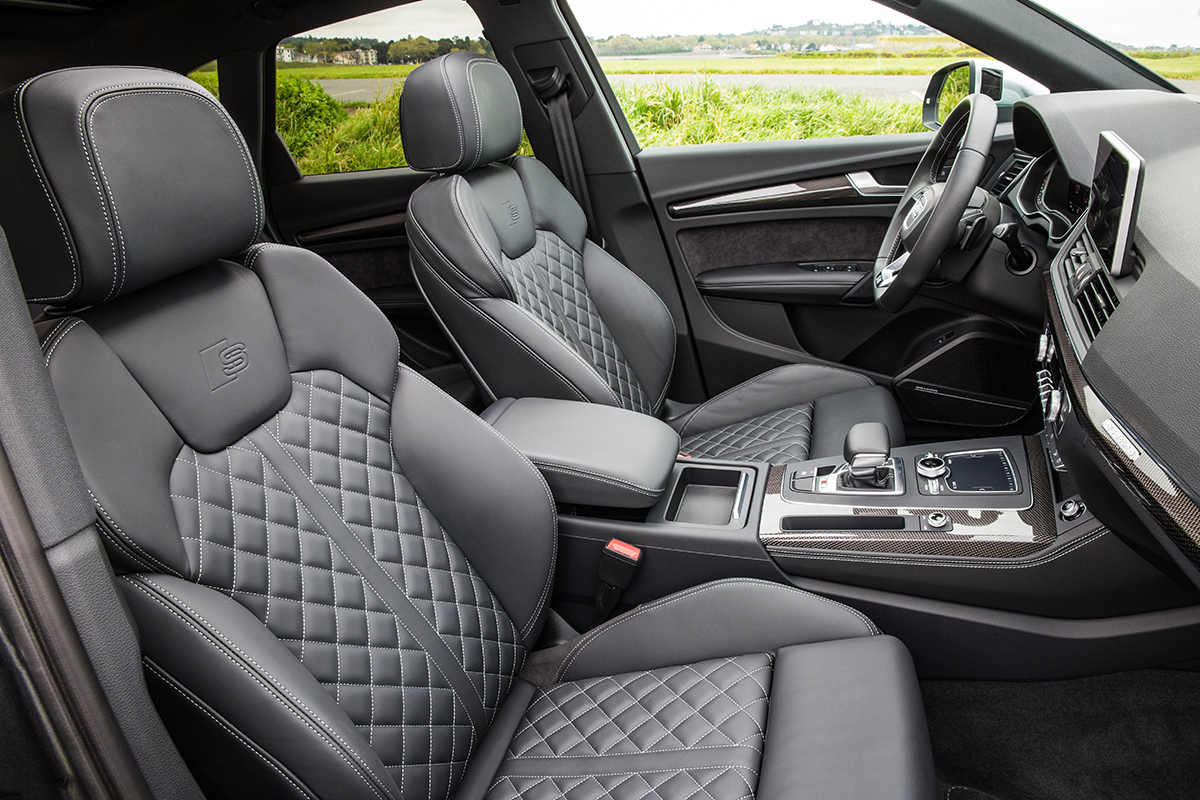 And if that means all Audis get these diamond-patterned leather seats, that wouldn't be bad, either. , Audi
2018 Audi SQ5
Base Price: $54,300
Price as Tested: $65,800
Powertrain: 3.0-liter turbocharged V6, 354 horsepower, 369 pound-feet of torque; eight-speed automatic; all-wheel-drive
0-60 mph: 5.1 seconds (manufacturer claim, but described as "very conservative" by one PR rep)
Top speed: 155 mph (manufacturer claim)